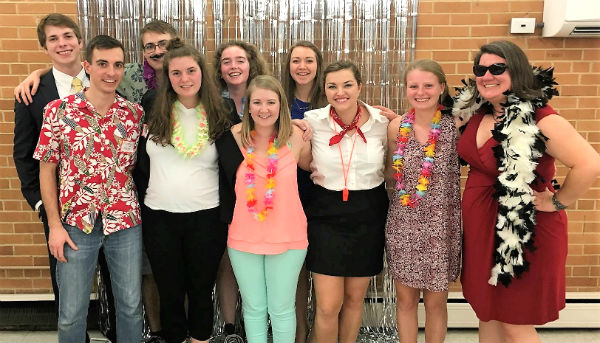 Manis (r.) with students.
Manis wins campus ministry award
Lutheran Campus Ministry staff recently gathered for our National Staff Conference in Portland, Oregon.  It was a wonderful event to celebrate our ministry among students, faculty and staff at college and university campuses across the country on behalf of the ELCA.
At the closing ceremony, Pastor Jennifer Manis (Campus Pastor at Holy Trinity, Raleigh, serving Lutheran Campus Ministry-Raleigh) was named the recipient of the "2018 Hess-Pierson Award." The Hess-Pierson Award was established to honor Rhonda Hess and Roy Pierson, two students who served as volunteers in campus ministry in California and who died in an automobile accident while driving to a Lutheran Student Movement retreat in 1985. It is given annually to a Lutheran Campus Ministry professional who shows exemplary dedication and service to Lutheran Student Movement-USA (LSM-USA). Nominations for the Hess-Pierson Award come from the regional representatives who serve on the LSM-USA National Council.
A portion of the nomination letter for Jennifer reads as follows:
Since efforts to revitalize LSM-USA on a national level were rekindled several years ago, Jennifer Manis has been a consistent and tireless presence for this cause. I first met Jennifer when she was one of my supervisors during the "LSM Rooted & Rising Spring Break Service-Learning Trip" in March 2018. I was honored to have Jennifer continue supporting my development in faith during my two years as the Region 8 representative on the LSM-USA national council. Pastor Jennifer's dedication to her personal campus ministry and the Lutheran Student Movement on a national level inspired me to give LSM-USA and my own campus ministry my best efforts.  Her ability to spread God's word through Lutheran Campus Ministry, and to make ministry efforts fun and joyful is incredible.  I can definitely say that knowing Jennifer made my experience with LSM-USA a life-changing experience, and that Jennifer has been a special gift to all of us in the LSM-USA community!
Pastor Jennifer Manis is recognized by students and her campus ministry colleagues as a creative and dynamic Campus Pastor who encourages and empowers students to develop their leadership skills, and to use their gifts and talents for the sake of others. I hope you will join me in congratulating Pastor Jennifer Manis as the recipient of Lutheran Campus Ministry's "2018 Hess-Pierson Award."