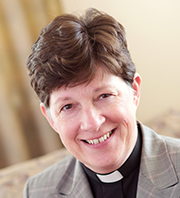 Living in a broken world
In her November column for Living Lutheran, Presiding Bishop Elizabeth Eaton says the joy found in Jesus allows us to live in hope and believe in life amid despair and death.
Young adults serve around the world
This year there are 93 Young Adults in Global Mission (YAGM) serving around the world on behalf of the ELCA–nine of whom call the congregations, camps, and campus ministries of the NC Synod home. That's pretty impressive! Each of those nine young adults will write blogs and/or newsletters during the year about ministry happening in their various locations. Learn more about our young adults serving; subscribe to their blogs!

Thankfulness in all things
Give thanks in all circumstances; for this is the will of God in Christ Jesus for you. (1 Thessalonians 5:18)
Martin Rinkhart was a Lutheran pastor in Germany in the early 1600s. The Thirty Years' War was raging throughout his ministry at Eilenberg, a tragic fallout from the Reformation we just commemorated that pitted not just theologies and pieties but weapons of war, Lutheran against Catholic. Eilenberg was a walled city, so thousands sought refuge there from the horrors of war. The resultant overcrowding caused both hunger and disease.
(more…)