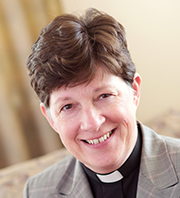 Oct. 32 and beyond
In her October column for Living Lutheran, Presiding Bishop Elizabeth Eaton says Martin Luther makes the case that liberation in Christ is both a freedom from and a freedom for.

"God's Work. Our Hands." across the synod
Congregations all across the NC Synod recently participated in the ELCA effort "God's work. Our hands." Sunday. This designated day gives us an opportunity to celebrate who we are as a church—one church, freed in Christ to serve and love our neighbor. Read these stories to see the many ways congregations across the synod are serving and loving their neighbors.
Caribbean Disaster Relief
I write to you this month from the ELCA Conference of Bishops, where we have been eagerly awaiting word from our colleague Bishop Felipe Lozada of the ELCA's Caribbean Synod, which includes the devastated U.S. Virgin Islands (USVI) and Puerto Rico. The destruction was so very great from the two Category 5 Hurricanes Irma and Maria that we did not hear from him until this past Friday. (more…)