Fall Convocation for rostered ministers
It's getting to be that time of year. When the calendar flips to September it means Fall Convocation for church leaders is just weeks away. Your planning team dreams about what you might need when you arrive, and then we work to make it happen.
We know you need some rest, so we plan a schedule that isn't too jam-packed and create spaces to take a break or catch up with a friend.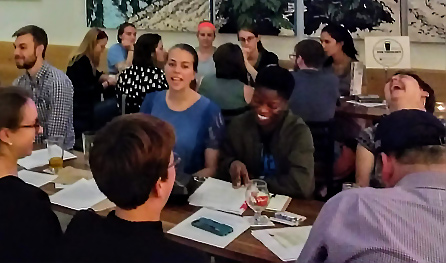 Pull up a chair!
"The kingdom of God is a bunch of outcasts and oddballs gathered at a table," Rachel Held Evans wrote, "not because they are rich or worthy or good, but because they are hungry, and because there's always room for more." Held Evans, a 37-year-old best-selling Christian author, tragically died this spring after initially being hospitalized for the flu. The table seemed to be a theme throughout Held Evans' writing. She was always quick to note that we are not the ones to set the table or prepare the feast. It's already been given. We simply are invited to pull up a chair and dig in. (more…)

Sanctuary

"Lord prepare me to be a sanctuary, pure and holy, tried and true. With thanksgiving I'll be a living sanctuary for you."
I wonder how many hundred times I've sung those words at camp, on retreats, and in contemporary worship services of the early 2000s. I'll bet a lot of you know it and have sung it too.
"All who would like to help decorate the sanctuary for the season of Advent are welcome and encouraged to join the altar guild this coming Saturday from 10-2."
"Please silence your cell phones before entering the sanctuary."
"How many people will your sanctuary seat?"
All of these are phrases that, if you've ever hung around a Lutheran church, you've heard some variation of many times. (more…)