The office is closed to the public due to COVID-19. Our staff is continuing to work, mostly from home. We are available by phone and email.
Gifts that Gift the Giver
by Stephanie Burke and the Rev. Keith Pearson, ELCA Foundation 
One Christmas, years ago when I was a child, I tearfully told my grandmother how a close friend I'd given a gift to had gone the whole blessed holiday without giving me a thing.  She flicked her newspaper, turned one page, and said, "Just remember, the Bible says it's better to give than to receive." (more…)
Lincolnton  Little  Library
Even during the COVID-19 pandemic, Salem, Lincolnton, came together to do "God's Work" with "Our Hands." Members of Emmanuel, Lincolnton, also joined in the project since the two congregations began worshipping together in the arbor at Salem earlier this summer. (more…)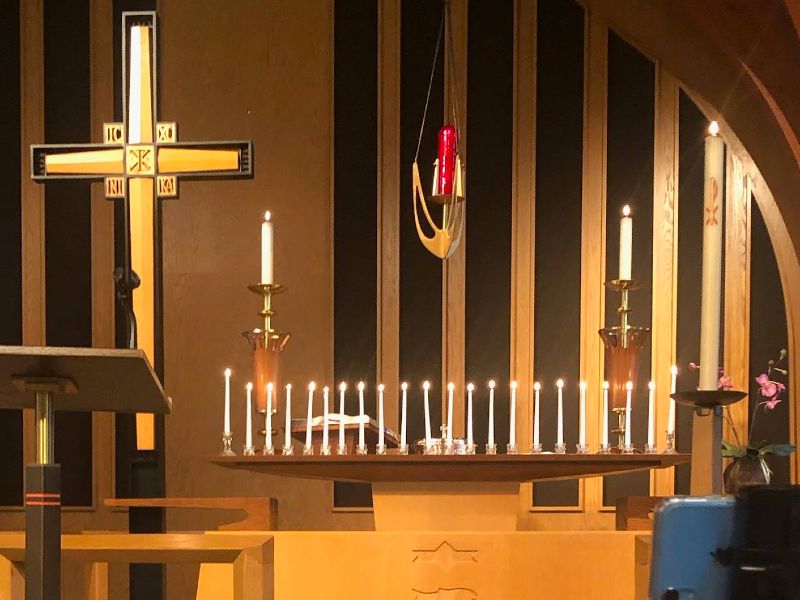 A Communion of Saints
On a Sunday in 1950, Bill Milholland, Sr. walked out of the sanctuary of St. John's Lutheran Church in Salisbury, NC, stood on the top step looking down at the sidewalk, and saw the woman who would become his wife of 68 years. "I spied Mary Anne, and immediately Cupid shot an arrow and it hit me," Bill said. "I walked right down the steps and asked if I could see her, and she said yes. So, our relationship began at St. John's."
In that moment, Bill was not yet the "Pastor Milholland" whose ministry in the NC Synod would span decades. He could not have known the life that he and Mary Anne would build together in the Lutheran church, or the many milestones they would celebrate in that very congregation. And he could not have known that one far off day, he would be back at St. John's to say goodbye. (more…)

Ministry in a Time of COVID-19
Visit this new page to find information you need to figure out ministry in a time of COVID-19 including guidance for re-gathering. Summer worship information is detailed along with links and call-in information. Links to online worship from many of the synod's congregations are listed as well as links to NC Department of Health COVID-19 Resources and much more. Additionally, curated lists of resources are noted in the categories of: Online Worship, Online Meetings, Online Giving, Pastoral Care, Faith Formation, and more.
Go to the Ministry in a Time of COVID-19 page.
Collage images include (clockwise from top): Holy Trinity, Hickory, holds drive-in worship; Prince of Peace, Greensboro, Justin Willoughby leads during parking lot worship; Deacon Wendy Roberts and her daughter, Lauren, offer video devotions for Morning Star, Matthews; Two women of Good Shepherd, Goldsboro, serve at local nonprofit, Laundry Love; Members of Epiphany, Winston-Salem, gather for coffee hour fellowship; title image by Vektor Kunst from Pixabay

Elections' Directions Reflections
If you're reading this on November 3, we probably don't know much if anything yet about how this year's hotly-contested elections are turning out. What we do know is that elections produce anxiety. Regardless of your political persuasion, we can't help but stress about, "Will 'my side' win? Will the other side, i.e., the forces of evil, cheat, steal, lie, and deceive the election away? Or what if 'they' win fair and square? Isn't that one of the great risks of democratic elections? The majority getting it wrong?"

Church & State 101
A month from now, the 2020 election will be over. As with every election before and yet to come, some will be satisfied, and some will be disappointed. Truthfully, with the extreme polarization that marks our day, some will be ecstatic, and some will be devastated. So it goes in the democratic election process. (more…)