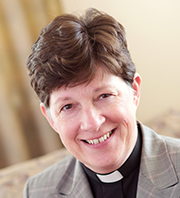 When Presiding Bishop Elizabeth Eaton attended the Lutheran World Federation Assembly in May, she was reminded that the ELCA is not alone in the world. In her July column for Living Lutheran, she notes that while our contexts are very different, all Lutherans have something in common—our life in Christ. Read her column here.
Partners congregational visits
Synod Council members at our December 2015 meeting lamented that Mission Support receipts were nearly $178,000, or about 10%, behind budgeted expenses. The Council directed the NC Synod staff to develop a program whereby representatives would be trained to go to all of our congregations to lift up the many vital ministries of the synod in hopes of a much needed uptick in mission support.
Still, as I traveled about the synod, I realized how many of our congregations are struggling.
 
Reading 14: Has God rejected or abandoned us?
When I worked in Brooklyn I used to commute by subway. One day I was on the last car of the train and the lights went out. This by itself was not unusual, the lights always went on and off. But this time, the lights didn't come right back on and the train came to a stop.
At first, everyone just sat quietly in the darkness waiting for the conductor to tell us what was happening.
(more…)