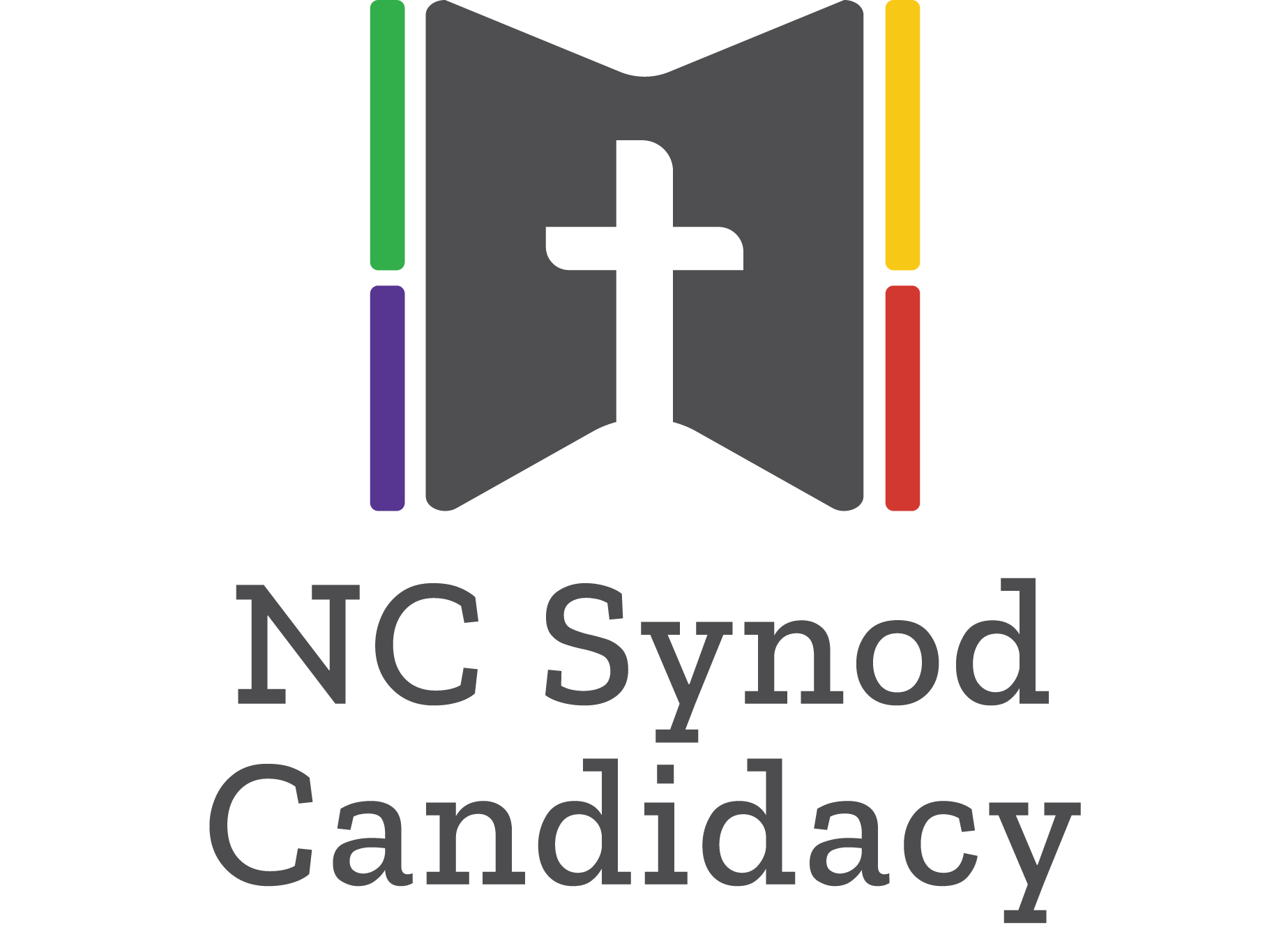 The ELCA Candidacy Process accompanies people as they discern God's call in their life.
God calls and equips each of us to ministry in God's world.
Some are specifically called to public, rostered ministry in the ELCA. Rostered ministers are pastors and deacons in this church.
The candidacy process is meant to be a welcoming and focused opportunity for people to discern with others how they may be called to serve in and through the church.
It is a formalized, yet personally and relationally focused, journey that assists people in that discernment process.
It involves a partnership of the candidate, congregation, synod, synod candidacy committee, seminary and the Domestic Mission Unit of the ELCA.
On this page you will find information about the role of the Candidacy Committee, the steps in the candidacy process and resources for journey. Welcome.
NC Synod Candidacy Committee
On the synodical level, the primary work in preparing people for this public leadership (also known as "rostering") is done by the Candidacy Committee.
The NC Synod Candidacy Committee meets three times a year.
2023 Candidacy Committee Meetings:
April 20-22, 2023

August 10-12, 2023

November 16-18, 2023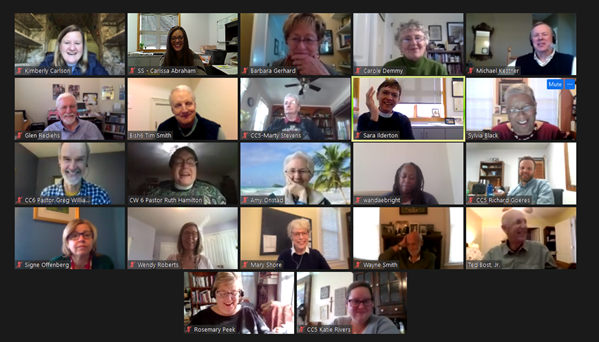 NC Synod Candidacy Contacts
The Rev. Dr. Kimberly Carlson
Chair, NC Synod Candidacy Committee
Ms. Sarah Greene Burleson
Candidacy Administrator
The Candidacy Process
Ready to take the first step?
Start by speaking with Candidacy Chair, the Rev. Dr. Kimberly Carlson, in the NC Synod office at 704-633-4861.
Basic sequential steps to begin candidacy:
Contact Synod Office for information and candidacy entrance checklist. Also contact ELCA seminary of choice.
Schedule and complete Initial Discernment Interview through the Candidacy Committee (some paperwork required).
Schedule and complete Entrance Interview through the Candidacy Committee (paperwork, background check and psychological testing required).
Enter ELCA Seminary. If entering a non-ELCA seminary, it is critical that candidates affiliate with an ELCA seminary as early as possible in the candidacy process.
Steps of the Candidacy Process
An Intentional Time of Discernment of God's Will
Speak with your pastor and/or deacon about your call to ministry.
You are invited to make use of Called to Lead: God's Call, Your Vocation – a very helpful resource for discerning how God is calling you to use your gifts for the sake of the gospel for the sake of the world.
Contact Pastor Sara Ilderton for more information and to begin the formal Candidacy Process
Upon receipt of all necessary materials, the NC Synod Candidacy Committee will schedule an Entrance Interview at one of its regularly scheduled meetings – usually held the months of March, August, November.
Optional Tools & Resources to Explore
Begin exploring seminary options, including these ELCA seminaries: 
Pacific Lutheran Theological Seminary: Berkeley, CA 
Luther Seminary; St. Paul, MN
Lutheran School of Theology at Chicago; Chicago, IL
Wartburg Seminary; Dubuque, IA
Trinity Lutheran Seminary; Columbus, OH
United Lutheran Seminary; Gettysburg & Philadelphia, PA
Lutheran Theological Southern Seminary; Columbia, SC
If you are considering a non-ELCA seminary or divinity school, you need to affiliate with an ELCA seminary as soon as possible. Please contact Pastor Sara Ilderton for more information.
Note: Please be aware that at the present time, the NC Synod Candidacy Committee does not consider Luther Seminary's MDivX program an appropriate degree program for candidate formation.
The Formal Beginning of the Candidacy Process
The Entrance process in candidacy is the first formal discernment by a candidacy committee and applicants of their readiness for candidacy.
A decision to grant Entrance officially accepts an applicant into candidacy, which means the committee recognizes potential for rostered ministry.
Normally, a candidacy committee will grant Entrance prior to an applicant's beginning seminary studies. (In unusual circumstances an applicant may begin seminary studies for a period of six months before an Entrance decision is granted.)
Be familiar with Definitions and Guidelines for Discipline. All candidates for ministry are expected to live in accord with its standards of conduct as a candidate and as a rostered minister in the ELCA.
Candidates should be in touch with the synod or the candidacy committee at least once per year.
One of the practices that candidacy committees have found useful for facilitating annual contact and building relationships between the committee and candidates is a developmental interview with the candidate and members of the committee (Candidacy Manual 2021, p. 56).
Developmental interviews are usually opportunities for checking in with the candidate to make sure candidacy is progressing smoothly and the candidate is following up on any recommendations made by the committee during the previous interview (a previous developmental interview or entrance or endorsement interviews). Sometimes the interviews are held to solve a particular problem. On occasion, a developmental interview is scheduled when a serious or urgent situation involving, for example, conflict or inappropriate behavior has come to the committee's attention.
Developmental interviews also are useful for situations when candidates have been postponed at a key stage in candidacy, have not been in contact regularly with the committee, or do not seem to be making appropriate and timely progress in their candidacy journey. 
Official Action Affirming A Candidate's Demonstration of Appropriate Gifts & Characteristics for Ministry
Endorsement follows about halfway through the candidacy process and is the point when the candidate specifies, and the committee and seminary faculty validate, a specific roster category.
A candidate is Endorsed by the Candidacy Committee for one of two rosters:
Ministry of Word and Sacrament (Pastor)
Ministry of Word and Service (Deacon)
PRIOR to Endorsement, a candidate must complete:
Clinical Pastoral Education (CPE) [usually coordinated through your seminary]
A seminary course in Lutheran Confessions
A candidate must be Endorsed in order to proceed to Internship
Candidate is Ready to Serve as a Rostered Minister
Approval is the last official decision a candidacy committee makes, affirming the candidate's readiness for rostered ministry.
The Candidacy Committee discerns the candidate's gifts and readiness to serve and lead in this church.
PRIOR to Approval, a candidate must complete:
A formal internship (generally coordinated through your seminary)
An Approval Essay
Once Approved, the candidate is ready to begin the formal ELCA First Call Process.