The North Carolina Synod is one of 65 synods in the Evangelical Lutheran Church in America. The synod is guided by an elected bishop and a synod council comprised of ordained and lay members. Together, they oversee the ministry of the synod's congregations and rostered ministers. The bishop and staff in the office of the bishop provide support to congregations and leaders.
Synod Office Hours
As of May 1, 2022, the synod office has resumed normal business hours for synod staff: Monday through Thursday 8:00 a.m. to 5 p.m.; Friday by appointment.
Our History
Organized in 1803 to help congregations find qualified pastors, the NC Synod unites just under 200 North Carolina congregations of the ELCA.
NC Synod Staff
Bishop Timothy M. Smith, elected in 2015, and re-elected in 2021 to a six-year term, is joined by talented and committed staff members to accomplish the work of the synod.
Meeting Rooms & Chapel
The office has meeting rooms and a chapel available for synod-affiliated groups [using COVID-19 safety precautions].
Partner Synod: Central States Synod
Companions Synods (International): Evangelical Lutheran Church of Papua New Guinea—Yabim District, and the Lutheran Church in Costa Rica
Regional Archives: James R. Crumley, Jr Archives
Agencies & Institutions: We are blessed with thirteen synod-affiliated agencies/institutions.
Churchwide organization: ELCA
Publisher of the ELCA: 1517 Media (Augsburg Fortress, Fortress Press, Sparkhouse)
Magazine of the ELCA: Living Lutheran
Connection to other Lutherans, internationally: Lutheran World Federation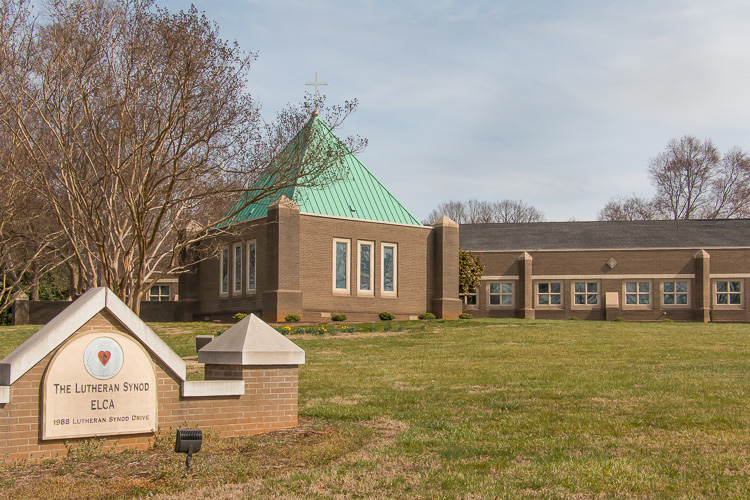 The synod office is the administrative building of the NC Synod, ELCA, centrally located in Salisbury.
Meeting rooms and a chapel are available to be reserved by synod-affiliated groups [using COVID-19 safety precautions]. Contact Diane Ryan with questions.