Think of us in this way, as servants of Christ and stewards of God's mysteries.
1 Corinthians 4:1
Advanced Lay Ministries (ALM), a formation and certification program of the North Carolina Synod, brings together the Lay Preaching (LP) and Synod Authorized Ministry (SAM) programs.
Having these two programs under one umbrella facilitates the sharing of resources, access to advanced coursework, and a more streamlined approach to identifying and developing lay people in the synod for service in congregations.
The Advanced Lay Ministries program consists of two parts: one focused on the knowledge and skills needed for lay preachers and the other on additional coursework related to congregational leadership.
Part One is required for anyone seeking to serve as a Synod Authorized Minister.
Theology
Old Testament
New Testament
Preaching
Worship
Part Two—Synod Authorized Ministry
Sacraments
Discipleship and Leadership
Pastoral Care
Governance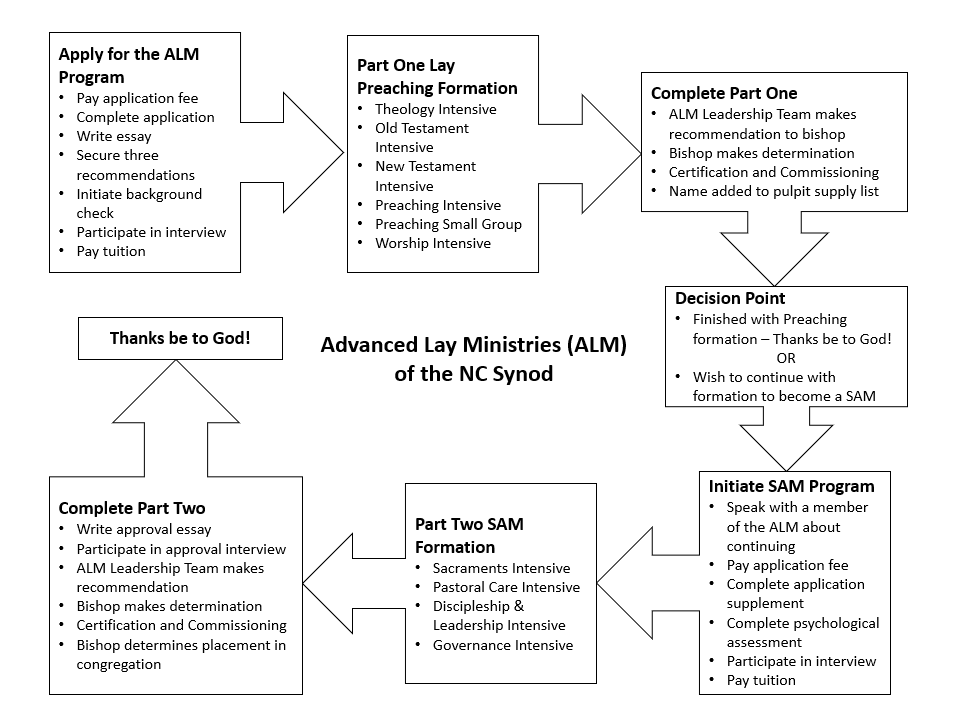 Authorized Lay Ministry Diagram
Advanced Lay Ministry Forms
The Expanded Application is for those who have completed Part 1, the Lay Preaching component, and are seeking to continue their formation to become a SAM.
Visit Link