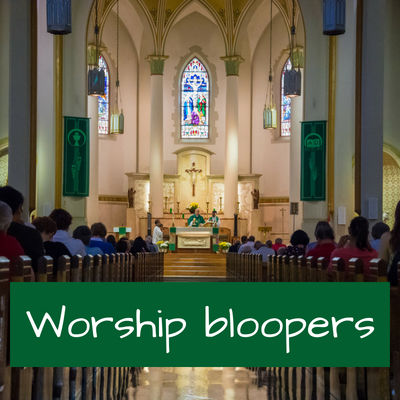 Worship bloopers
"This is not a performance," I always tell the nervous 3rd-grader in the parish the first time they go to light the candles on a Sunday morning right there in front of Momma and Aunt Maggie and the grouchy altar guild lady and God and everybody. "It's worship, and we aren't perfect, nor are we supposed to be. We give God and God's people our best, but when we fall short, God does the rest." Luther's Sacristy Prayer essentially says the same thing. "Were it all up to me, I would bring it all to destruction." Yep. We have this treasure in earthen vessels.
I lead worship all over the place. I've preached and led worship in at least 10 states and at least 10 countries. I've been a pastor of a small rural, large urban, and university/resort congregations. I've preached for 10,000 people at one time and I've preached for hundreds of thousands on DayOne radio show. And I've messed up so many times that it's hard to believe I didn't at some point just give it up. It's one thing to make a defective widget every now and then. It's quite another horrifying reality to blunder the Word and/or sacraments! My strongest recurring tendencies toward works righteousness are in these humbling moments.
A pastor in our synod whom I know reasonably well was lamenting on social media having forgotten the words to the Lord's Prayer during a pastoral visit in a care facility. What pastor hasn't done that? My intern supervisor turned all red in the face once and finally had to walk down from the altar because he couldn't even remember how the Lord's Prayer started! A pastor with whom I worked preached a whole sermon on how "Mary washed Jesus' hair with her feet." That's just an image you can't unsee. Another pastoral colleague got up to lead the Creed and entirely omitted the first article. No creation! An intern once meant to pray "for the hungry and the homeless," but it came out, "for the hungry and the homely." He quickly recovered by adding, "And Lord, we pray for all of the good looking people, too."
Among my own personal pastoral worship leadership and preaching blunders are:
First time ever, distributing the wine in my first-year-teaching parish at St. Paul's in Stoverstown, PA, my Mom and Dad had just given me a big pewter cross to wear, which I did, not realizing the physics of how when you bend over, the cross swings forward with force, which it did, dinging an elderly woman right in the mouth and breaking the top middle tooth of her dentures clean in half. Neither she nor I ever told my supervisor. I was horrified.
Same parish, same semester, only Easter, and sundresses were all the rage, and my supervisor reminded me to be discreet, and as I handed out wafers on one side at the altar trying not to be creepy, I looked away and dropped a wafer right down the front of a dress. Moved on. Horrified.
Unbeknownst to me, I scooped up several dozen wafers at the altar as I reached across the paten to pick up the chalice, and didn't know I had a sleeve full until I walked out to the nave level for distribution, and it was like manna raining from heaven, and I couldn't figure what happened.
Preached a sermon on the 10 commandments in which I referred to the commandment, "You shall not admit adultery." Denied it. Heard it on the tape, though. Choir member's assessment: "Good advice, Pastor. But bad commandment."
Finally got up the nerve to do footwashing on Maundy Thursday my fourth year in the parish, only to be so nervous in explaining it and issuing the invitation to come forward that I said, "All who desire may now remove your shoes and come forward for the fart-wushing." Lots of laughter, but not the Holy Week moment I was aiming for.
A teenager at the third morning worship service at the communion rail looked up and said, "Pastor, you have on a brown loafer and a black loafer." I did. Probably dozens of others saw it. She alone was brave. I said, "I have another pair almost like it at home, only in reverse."
Sitting in the bishop's chair. At the Episcopal Church. At Easter Vigil. When I wasn't a bishop.
I could go on and on, as all pastors and anyone in any vocation could. We're far from perfect. I tell those stories to nervous acolytes and shaky seminarians and now to you to highlight that we have to be able to take ourselves seriously enough, but at the same time, not too seriously. I hope it's a little easier to light the candles that first time with every eye burning a hole in your back, assessing what kind of shoes you wear and if your hair looks right. "Hey," I remind acolytes, "until you knock out some lady's tooth, I'm way ahead of you in the worship-messing-up contest. But every now and then, God uses even me."
May God use you powerfully through the gift and calling of your baptism and Christ's presence in and through you despite all of the perfectly good and accurate excuses that we're not good enough and never will be.
Bishop Tim Smith