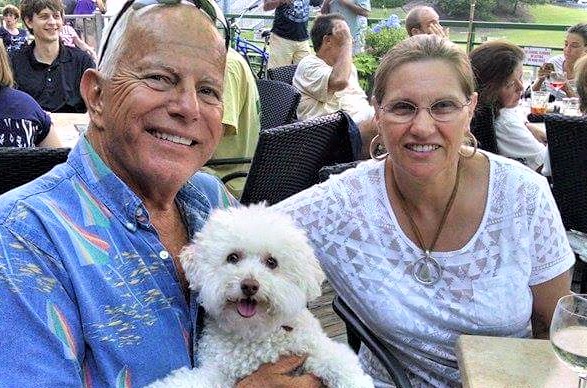 Bob & Pastor Carrie Bishop
"Bishop Tim preached the resurrection!"
How often has your family shared milestones and life passages with your pastor or deacon over the years? Most likely, your pastor has visited you in the hospital, baptized your children, officiated at weddings, cried over divorces. Your youth and family minister or music minister has celebrated graduations with you, prayed with you, and supported your grieving when you lost loved ones. But have you ever wondered who rostered ministers turn to when their own families celebrate special occasions and need pastoral care and support? Certainly, the congregation where the pastor or deacon is called to serve can provide some of that care and support, but that is also one of the roles and responsibilities of the bishop and the bishop's staff.
In the NC Synod there are almost 250 retired rostered ministers who receive pastoral care from the pastor of the congregation to which they belong; however, according to Bishop Smith, "It's a different story for the approximately 200 active rostered ministers. Their pastoral care must come from the synodical expression of the church."
When Pastors David (Zion, Hickory) and Judy Lewis (Philadelphia, Dallas) Drysdale began dating and eventually married, Bishop Smith was one of the first people they consulted, because they knew that merging their two lives would also affect their calls and the congregations they served within the synod. Bishop Smith also officiated at their 2017 wedding.
For the past two years, Pastor Carrie Bishop (Mt. Hermon, Concord) has felt the loving care of the synod during her husband's illness and eventual death. Pastor Carrie shares, "I remember meeting Bishop Tim at a QT gas station in Concord and he asked, 'How are things going?' I broke down and he provided tremendous comfort in a very public place. Later, when I stopped by the synod office to ask about someone covering for me while I took a leave of absence, Bishop Tim and Assistant to the Bishop Pastor Phil Tonnesen brought me into the chapel and prayed for me. Later that afternoon they had lined up Pastor Mike Johnson to cover for me for two months."
Pastor Carrie continues, "I cannot tell you the incredible support I received from the entire staff. They would keep me in prayer when they met in chapel. Of course, Bishop Tim and Phil would call to check on me or send a text message, but so many others continued to keep in touch with me during this two year illness. Bishop Tim came to our home about ten days before Bob died. The bishop brought Holy Communion and forgiveness and comfort. That next morning, Bob was rushed to the ER at Wake Forest Baptist. He never returned home, but died in the Comprehensive Cancer Center on July 19. Later that morning, I was sitting in the synod office with Tim and Pastor Danielle DeNise (the synod's Director for Evangelical Mission) asking if they could find someone to preach and preside at Bob's funeral. Never expecting what I would hear: Bishop Tim said he would preside at the graveside and then preach at Bob's memorial later in the day. Pastor Danielle said she'd preside at the memorial service, even though she was expecting her baby in a matter of days! How's that for providing loving care for one of Bishop Tim's flock; both to Mt. Hermon and to me! And Bishop Tim preached the resurrection! All I can say is AMEN!"
Amen, indeed! And thanks be to God for the pastoral care provided to rostered ministers through our synod and its staff!
If you ever wonder what your financial support of the synod accomplishes, simply ask a rostered minister about the care they receive from the bishop and synod staff. Thank you for helping to provide great care for those who, in turn, provide so much comfort to their own congregations.
Be sure to remind your rostered minister to share celebrations and concerns with the synod staff!