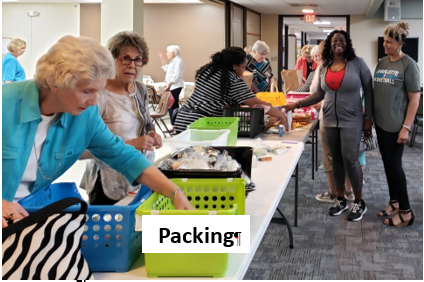 Packing purses!
For their October meeting, members of the Sullivan Huddle of Women of the ELCA at First, Greensboro, participated in a service project working with "An Attitude of Gratitude."
One of their outreach programs is providing new and gently used purses to homeless women. The purses and supplies are donated and are filled with personal care items:  soap, shampoo, conditioner, Q-tips, toothpaste, toothbrush, mouthwash, comb, deodorant, lotion, hand sanitizer, facial tissues and other items.
We were able to help fill 50 purses to be distributed to Hannah's Haven, Partnership Village, and the YWCA Family Shelter in Greensboro. Thanks to everyone who contributed and participated!