Jamie recalls a very bleak day when all she had to feed her children was ramen noodles.
Like many low-income parents in Rowan County, she was having trouble making ends meet on job and child support income of just over $1,000 a month. When she learned about the Food for Thought program at her daughter's school, she enrolled her immediately.
Food for Thought, a program of Rowan Helping Ministries, provides weekend food bags for students in Rowan-Salisbury Schools who don't get enough food to eat on weekends.
During the week, these children have access to free or reduced-price breakfasts and lunches at school.  But weekends can present more dire situations.
"When my daughter was added to the program, we were able to stretch our meals because of the extra food she is given to eat," Jamie said. "It's a great program—it helps us out a lot."
The weekend food bags contain several cans of meat and pasta, like ravioli or spaghetti, canned vegetables, fruit cups or applesauce, breakfast bars, granola bars, juice boxes, and crackers or cheese snacks.  Food provided is healthy, shelf-stable, and easy to prepare for children who fix their own meals.
The Food for Thought program is designed to help satisfy students' basic needs for food.  Weight loss and more frequent illness are some of the physical effects of hunger, yet the emotional issues weighing heavily on children often include not knowing where their next meals will come from. These physical and emotional issues can impact their school performance and have long-term consequences on their ability to develop into independent and self-sufficient young adults.
Almost all teachers and school staff surveyed about the program report seeing improvement in children in the following areas:  overall school performance; grades and test scores; attentiveness and focus in class; classroom behavior; improved physical health and school attendance; and confidence and self-esteem.
Currently, the Food for Thought program serves 1,166 children who live in Rowan County, says Kyna Grubb, Executive Director of Rowan helping Ministries.
"Sadly, the number of children who qualify for the program continues to grow, but our caring and generous donors—like the North Carolina Synod, ELCA, through their Peeler/Casey Funds—are not allowing children to go hungry on weekends," Grubb said. "We thank all of our wonderful donors who step forward to make lives better for our most fragile young citizens."
Pictured: Gene Krueger and Kathleen Dunn load bags of food for delivery to Koontz Elementary.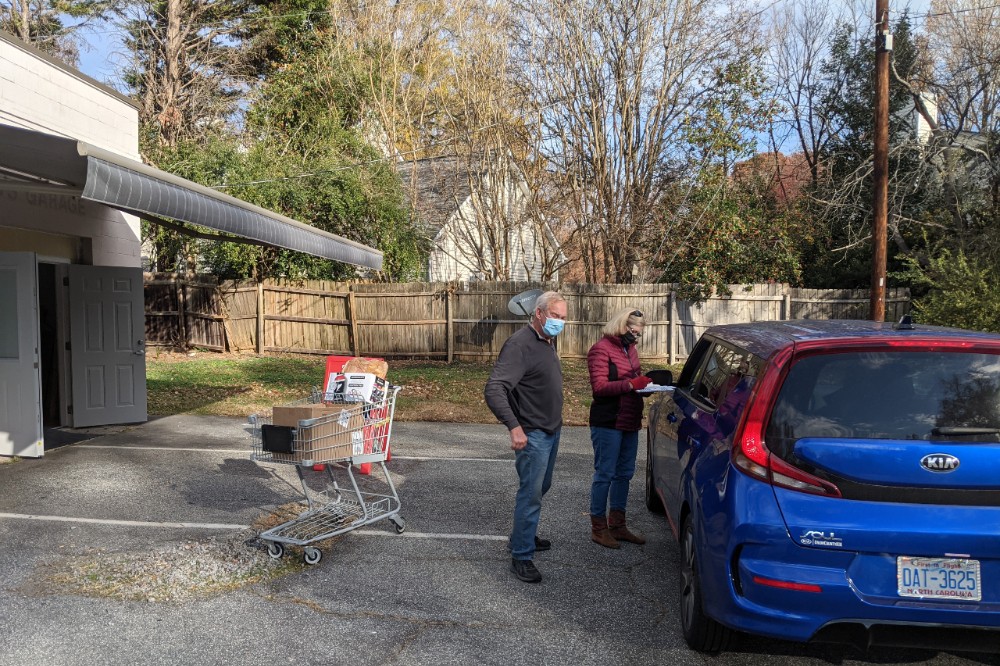 February 16, 2022 | Peeler-Casey Fund Stories
Michael Peeler/Virginia Casey Fund applications for 2022 are due April 30!