How do 100,000 masks get into the hands of NC Synod congregations? "Ask and you shall receive!" says Deacon GeoRene ("Jo") Jones, NC Synod Liaison for Lutheran Disaster Response (LDR).
Over the last 25 days, 152 cases of cloth face coverings were distributed to congregations and affiliated agencies. Early this year, the Federal Emergency Management Agency (FEMA) made a one-time offer to donate masks to non-profit agencies in response to the COVID-19 crisis.
The NC Synod and our affiliate ministry, Lutheran Services of the Carolinas (LSC), are both partner-members with NC Volunteer Organizations Active in Disaster (NCVOAD). This coalition of non-profit organizations and faith-based agencies and communities work together with NC Emergency Management Services year-round, supporting communities recovering from disaster of every type imaginable. As a governmental agency, NC Emergency Management Service (NCEMS) has direct access to personnel, services, and supplies from FEMA.
Early in 2020, NCVOAD partners started coordinating and developing ways to support communities across the state reeling from the COVID-19 pandemic. "I was on a conference call with our NCVOAD partners back in March when and they announced the offer from FEMA and gave out the contact information," reported Deacon Jo. "I submitted a request form by email that day. We received a nice confirmation, but it had a caveat: there was no guarantee any of us would actually get what we requested. We should expect further information at an undetermined future date." Eventually, the total number of requests exceeded the supply by a large margin.
During that conference call, no one realized that the high-quality, silver-infused, 100% cotton fabric for the masks was at that moment being created on the looms of Parkdale Mills in Gastonia, NC. "We waited, literally, for months with no word about whether our request would be granted." Jones explains, "And we had no idea that from Gastonia, the masks would go through a supply-chain of Parkdale facilities in both North and South America and end up in a FEMA warehouse in Florida. On a Tuesday in early August, Jones got a call from the shipping and logistics company used by FEMA to coordinate the semi-truck loads of palleted case-lots from the Florida warehouse to delivery locations across the Southeast.
Pastor Scott Swix, St. Luke's, Mt Ulla, picks up the story. "What do you do when 100,000 masks are coming to NC and (you) need a place to stage for distribution? Call St. Luke's! That's one of the reasons we built our Activity Building. It's our (community's) emergency shelter and staging center." Swix called together "The Receiving Team" which met the truck that Sunday afternoon. They unloaded and re-stacked the 100 cases (of 500 masks each) inside their facility within 30 minutes. Swix and Jones thought at the time that the 50,000 cases actually delivered were probably all the Synod would get. Nonetheless, everyone was amazed and grateful.
At that point, the distribution was a "go" and congregations were invited to place their order through the synod office. Deliveries would be made to a central location in each of our twelve NC Synod Conferences, by September 12, to have on hand for regathering as soon as was safe.
BUT WAIT! THERE'S MORE!
About ten days later, St Luke's member, Robert Hodges, and his Labrador retriever, Layla, were working a tractor on a field of their farm directly across the highway from the St. Luke's campus. Transport trucks traverse that highway all the time, but one rig turned into the St. Luke's campus, and Hodges wondered if there might be a connection to the "short stack" delivery earlier. Hodges and Layla drove up and met the driver, who held up the delivery paperwork for the final 100 cases completing the original order.
Rain clouds were already rolling in for a summer evening thunderstorm, and there wasn't time to off-load, break-down, and restack the load. Hodges asked the driver to take the load to his farm. Using his forklift, he transferred the load from truck to his hay wagon and pulled the wagon neatly into the safe shelter of the hay barn. A couple of days later, The St. Luke's Receiving Team leaped into action again, transferring the load from the hay wagon to the safety of their Activity Building.
On Sunday, August 16, the Receiving Team gathered around the entire 200 cases (100,000 masks) as Pastor Swix and Bishop Timothy Smith, led a Liturgy for the Blessing of the Masks. The brief service was attended by most of the Receiving Team, including Robert and Layla. Bishop Smith loaded 8 cases into his vehicle which he later delivered to Living Waters, Cherokee; Beck's, Lexington; Lenoir-Rhyne University, Hickory; and St. Mark's, Asheville.
MILES TO GO…
Deacon Margaret Howell is retired from active ministry, but when she read about OPERATION: MASK MISSION she contacted Deacon Jo, offering to help with deliveries. On August 23, Deacon Margaret removed the rear seats from her Toyota Sienna and drove to St Luke's from her home in Charlotte. Within days, she delivered those thirty cases to locations in the Southwestern and Mecklenburg/Union Conferences. When Bishop Smith reported on Facebook that his Subaru Forester was able to transport 8 cases "and still see out the back," Deacon Margaret simply replied, "A Toyota minivan can carry 30."
Over the following two weekends, a rental cargo van transported another 114 cases to delivery points ranging from the Blue Ridge Conference to the Southern Coastal Conference. When the van rolled into the parking lot at Trinity, Rocky Mount, Conference Dean Pastor Alice Johnson Curl, met the delivery and then offered a (COVID-safe) Sacrament of Holy Communion to the driver. Gifts of Grace just keep on giving!
Paul Dunn, Director of Disaster Response for LSC says, "I am so proud of the work the (NC) Synod did getting these masks out there! What a great team!" Dunn and his team have worked hand-in-hand with the NC Synod and Deacon Jo on numerous projects since Hurricane Florence ravaged our Eastern counties in September 2018.
Dunn serves on the NCVOAD Executive Board and recently connected NCVOAD to LDR's National Volunteer Trainers, Dale and Jean Peercy. The Peercys, long-respected in the disaster response community nationwide, are the primary presenters an NCVOAD Virtual Volunteer Training Program designed for persons wishing to prepare themselves to volunteer in muck-&-gut, tear down, debris removal, and related recovery efforts in communities recovering from natural disasters.
Gastonia, to South America, to Miami, to Mt. Ulla. From to Living Waters to Wilmington and many points between, the final delivery was made at 4 p.m. on Sunday, September 6, to The Lutheran Church of Our Savior, Jacksonville, NC. It somehow fitting that the journey of the masks is bookended at one side by St. Luke's, a congregation committed their community's emergency response ministries, and on the other by Our Savior, a congregation which is an active member in their county's local NCVOAD Long-Term Recovery Group.
Dear synod, your Mission Support has meant available masks throughout our state as well as ongoing support for those experiencing disaster. We are the North Carolina Synod! FOR THE SAKE OF THE WORLD! Thanks be to God!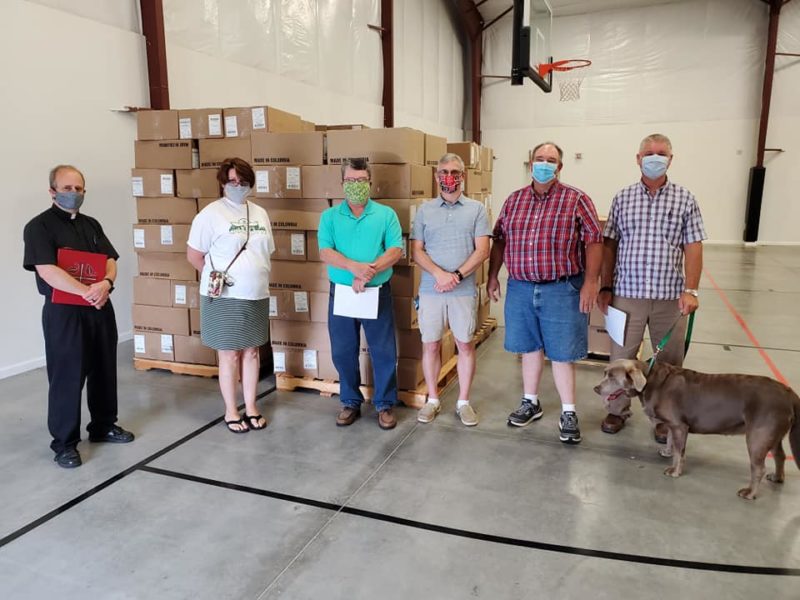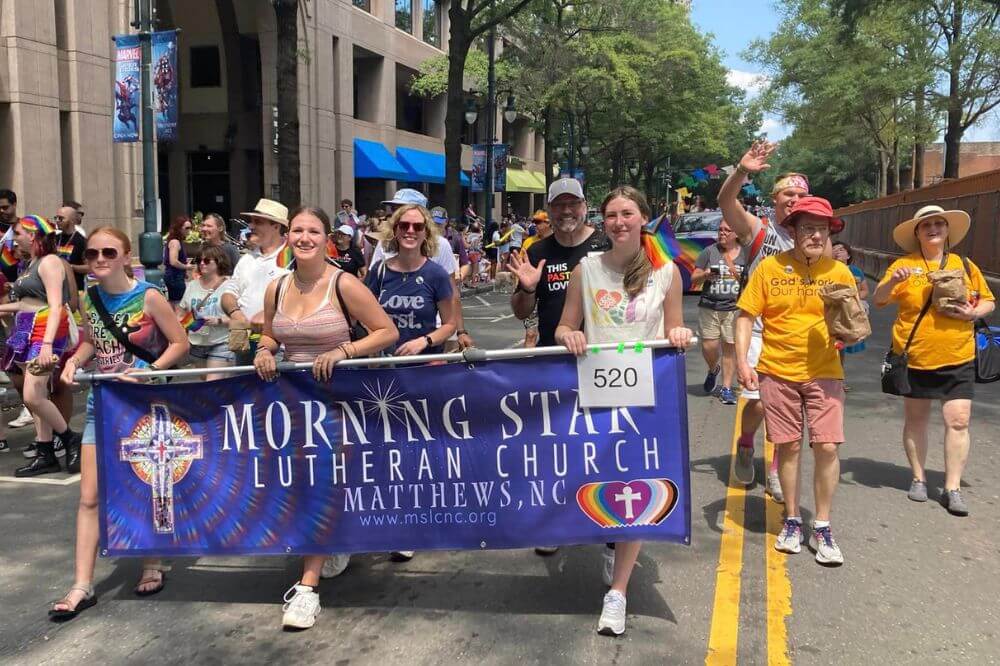 It was so humbling to get to love on these folks who have been hurt by the church.