"You are not alone."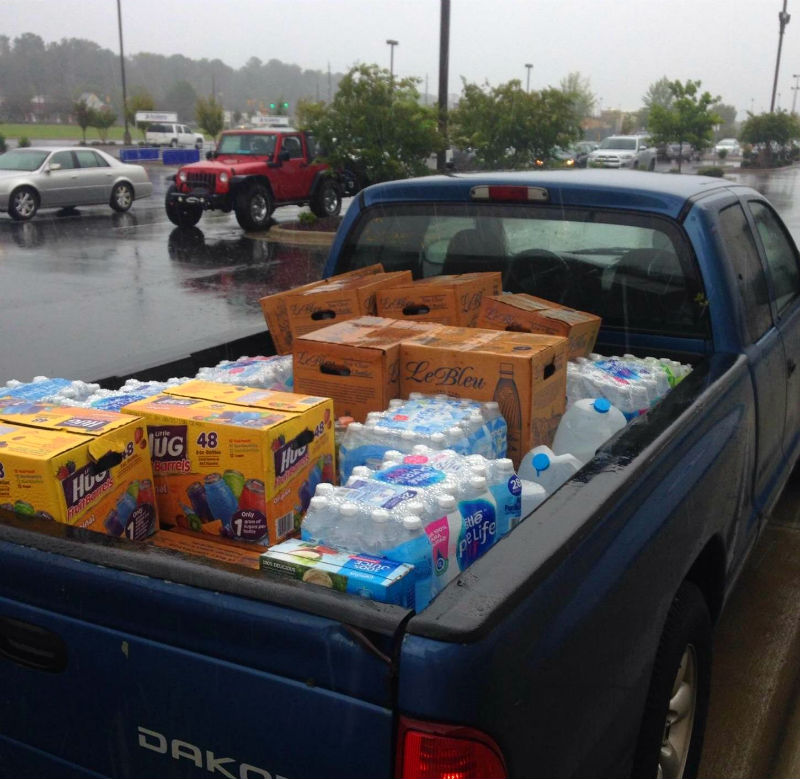 Like many of you this past Tuesday—September 11, 2018—my family watched several different 9/11 memorials and remembrances along with forecasts and news about the impending arrival of Hurricane Florence. Later in the evening, we watched an episode of Bull. (Bull is a television drama about a trial consulting firm where Bull and his team employ psychology and high-tech data to understand jurors, lawyers, witnesses and defendants to help their clients win.) In the episode, "Reckless," Bull's team worries that they're in over their heads when they take on the seemingly unwinnable case of Elliott Miles, a mute man who faces the death penalty if he's found guilty of murder and arson. Throughout the show, Miles uses American Sign Language to repeatedly tell Bull something and, at the end of the show, Bull signs it back to Miles: "You are not alone." It struck me as particularly poignant, as we remember the events of 9/11 and prepare for a natural disaster, that we "are not alone."
Since then, Hurricane Florence has come ashore as a much smaller hurricane than predicted (she's now a tropical storm) and is moving at a snail's pace across the Carolinas and leaving wind damage and lots of water in her path. Thanks be to God, we are not alone!
Our synod's agencies and institutions are responding in many and various ways to take care of family, friends, neighbors, and strangers; constantly sharing God's love and grace and assuring everyone that "you are not alone."
Before the hurricane, Ted W. Goins Jr., president of Lutheran Services Carolinas (LSC), headed to Wilmington where he planned to hunker down at the seven-year-old Trinity Grove Senior Living Community. During the eye of the storm, Ted shared, "We have 97 residents, 149 resident and staff family members, 80 teammates, and at least a dozen dogs. Most of the children have awakened and are eating breakfast, and getting very active. Everyone is getting along and pulling together. I am amazed by administrator Bonnie Skobel and all the Trinity Grove team! They make this look easy! And it's not! I have been blown away by the care and concern of the people in this building, the community, our Lutheran network across the country, and our fellow health and human services providers across the Carolinas! We have not been alone." In addition to their normal responsibilities, LSC is the Carolinas' affiliate of Lutheran Disaster Response. "When the water recedes, we will be there to help people rebuild their lives."
Although the Kure Beach Retreat Center (in the mandatory evacuation area on the coast) and Camp Agapé (on the Cape Fear River and in a flood area) were not ideal spots for hurricane evacuees during Florence, both Lutheridge (in Arden) and Lutherock (in Newland) have opened their facilities as safe havens during the storm for evacuees at no charge. We are grateful that our camps can open their doors to family, friends, neighbors, and strangers who need shelter from the storm.
For many years, the NC Lutheran Men in Mission (LMIM) have provided support following natural disasters through a disaster response trailer that LMIM owns and maintains. The trailer is filled with wet vacs, dehumidifiers, drying fans, and other necessary tools and clean-up equipment along with consumable items that would be needed following a disaster. Deacon GeoRene Jones, our synod's Coordinator for Social Justice & Advocacy Ministries and our primary disaster response contact is already working with Terry Edwards, the Executive Director for NC LMIM, and Pastor Wayne Puls, who serves at Hope Lutheran Church (LCMS) in Wake Forest, to get the trailer moved and in action as soon as possible. Additionally, GeoRene has been in contact with the Rev. Dr. Rodney Coles, Sr. with Interfaith Community in Greenville, N.C., Tom Morse from F3 Nation, and LSC, who have delivered water, food, bedding, baby supplies, and more, to grateful evacuees and volunteers at the Trent Middle School Shelter in New Bern on Saturday afternoon.
Let's all keep helping our neighbors—as we did after 9/11, and, certainly, as we will have the opportunity to do in the days, weeks, and months following Hurricane Florence. And remember that, thanks be to God, "you are not alone."
Give today to the synod's Domestic Disaster Fund.
Give today to Lutheran Disaster Response.
Give today to Lutheran Services Carolinas' disaster relief efforts.
---
Story by Pebbles Cloninger of Philadelphia, Dallas.