Reading 6—Glory

Long ago, our ancestors in the faith prayed and sung these ancient words on the way to worship God in the Temple. As they came to the place of encounter, the Holy of Holies, they start with the affirmation that the whole earth is God's handiwork.
God's holiness and majesty is not just revealed in worship. As important and vital as it is to worship God in community, God's people also recall that the created world is a gift from a holy, loving Creator.
We are in the middle of summer. And while we may find ourselves longing for slightly cooler temperatures during the middle of July, one of the fun parts of this time of year is to see the beauty of God's creation. Many of us have memories of taking time during the summer to go to the mountains, the beach, or another special vacation spot. One of the refreshing things about that is to see the diversity of God's creation. For instance, if we live far away from the ocean, it is a wonder to experience the smells, sounds, and sights of the ocean.
The good news is that God's glory isn't on display only in remote places that require long trips with children asking, "Are we there yet?" God's glory is on display as the faithful gather to sing praises to the God of Jacob, hear the Word, and share in the Lord's Supper in our local congregations. As we gather in worship, we find ourselves seeing the presence of the Spirit in the lives of God's people.
As beautiful and holy as our congregations are, God's glory will not only be contained to spaces that are set apart for worship. God's glory will also be on display as we serve our neighbors. That holy presence, which we talk about bringing as we serve others, is not limited to us. Because the earth is the Lord's, God's presence will be in those we serve, many times in surprising ways.
To Consider
In his Small Catechism, Martin Luther says, "I believe that God has created me together with all that exists." (Evangelical Lutheran Worship, p. 1162). What things and people will you come in contact with today? As you think about those things and people, remember that God has created them.

During the summer many people take vacations and miss Sunday worship in their home congregation. If you haven't normally done so, how could you incorporate worship and service into your next vacation?
God of glory, we give you thanks that you surround us with abundant signs of your presence. Bless us with hearts and hands that would see and proclaim your glory in our lives. We ask this through Christ, our Savior and Lord. Amen.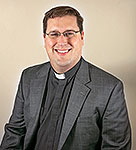 Russell Peek is pastor at Epiphany, Winston-Salem. He spent far too much time trying to come up with a witty description about himself, but failed to do so.