Reading 7—Remember to Remember

David writes this "Psalm of Thanksgiving" after finding himself in great darkness. He remembers when he, "felt secure" and declares, "I will never be shaken." David knows God as a provider who is close, who "made his royal mountain stand firm." However, when the darkness comes, David becomes dismayed. He cries out to God with confidence and courage. In his absolute depravity David asks God, "What is gained if I am silenced, if I go down to the pit? Will the dust praise you? Will it proclaim your faithfulness?" If I don't praise you, who will?
David never forgets who God is, what God has done, and what God will do! As a, Man After God's Own Heart, he remembers God. David calls to God for help, he cries out to God in praise. David remembers that "God's anger lasts but a moment," and "weeping remain for a night." David waits, with an unrelenting patience, knowing "God's favor lasts a lifetime," and "rejoicing comes in the morning." David knew God's love and that God would find him and bring him back from, "the realm of the dead." Even in the darkest night David never forgot.
This Psalm makes me ask, "Where does my heart and mind go in times of darkness and trouble? Where does my heart go in times of success?" I find that sometimes, I forget the good times when I felt, "secure and unshaken." The times when God was close. When God seems to turn His face from me, I think, God doesn't care about me, or my troubles. God is not listening to my cries. God won't fix this. In good times, I sometimes find myself taking credit for the success, saying, "aren't I amazing?" Yet, when I forget who the is author and perfecter of my faith, I lose everything. I forget to exalt God, I forget to remember that when, "I called for help, God healed me. You brought me up from the grave."
I chose to remember…that God loves me. God gave me everything. God never stops loving and giving. I will always praise God for the struggles and the triumphs. I will believe in the mystery of God's infinite plan. I will hold on to the truth that God is always and everywhere with me!
I choose to remember not to forget!
To Consider
After reading Psalm 30, what quality do you see in David that you would like to model and perfect in yourself?

What habits can you develop to help prepare your heart and mind for the inevitable times of trouble?
God, you are a God who loves beyond our understanding. With arms outstretched we praise your Holy Name. We sing praise and thanksgiving for your patience with us, your wayward children. Humbly we ask you to assist us in turning our eyes to You. Help us hold firmly to the gift of the Cross, so we may feel the love you shared by giving us your Son as atonement for our sins. Help us to care for those in need and reach out to others in our prayers. May our lives mirror the love we share with You. In Jesus' name. Amen.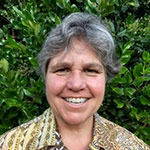 Deb Rosenberg writes: I am a loved Child of God. I currently serve Lutheran/Episcopal Campus Ministry with UNC Pembroke and Robeson Community College…called by the grace of God.