Almost five hundred middle and high school students gather in a ballroom in Greensboro on a weekend in February. Some are laughing and chatting with their friends from church, some are anxiously waiting to see what this is all about, some are greeting old and new friends across the room, and some are hanging out in the hallways. And then the music starts…it might be a familiar camp song with a slightly different sound thanks to a full band. Maybe it's "Head to the Heart", "Old Church Choir", or the perennial favorite, "My Lighthouse" that's been popular with Lutheran Youth Organization (LYO) participants for many years. No matter the song, when the synod youth band begins to play the energy in the room shifts; the Holy Spirit is present!
"The synod youth band is comprised of young people who are gifted musicians, but more than anything they are incredible humans. Being a part of their lives through the band is a privilege. To have access to their lives in this way is a pure gift and I am in awe of the ways they share their faith with so many," shares Emily Norris (The Dwelling, Winston-Salem), one of the adults who provides leadership for the synod youth band.
Ella Reeve from Augsburg, Winston-Salem shares, "Being in the synod youth band really helped me become more comfortable with my voice. I met amazing people, made some good memories, and played some beautiful music. I'm really grateful for the opportunity to be a part of it." Another band member, Kaela Grace Rochester from First, Greensboro, had similar sentiments. "I feel like I'm a part of something bigger than just myself or my congregation. Having the chance to see the crowd singing along and worshiping in their own ways was something I had never seen before, and it was so cool to be a part of the band that was helping to bring all those people together."
Another adult who works with the synod youth band, Ethan Overcash (Becks, Lexington) says, "I've always found music to be an important part of faith and ministry and the opportunity to help youth lead worship is an amazing one. Not only are they phenomenal musicians and performers but they are also becoming incredible leaders of the church!" Emily adds "We talk about being worship leaders. But more than that, we emphasize that we are the leader worshipers, modeling and inviting others into a posture of faithful worship. It's fun to stretch and expand on what that can look like."
The synod youth band practices regularly and works diligently to choose music that supports the LYO Assembly theme and is meaningful to participants. For this year's theme, "Together We Are One," they chose two mashups that were meaningful. "One of those used U2's "I Still Haven't Found What I'm Looking For" and "Open the Eyes of My Heart" which was written by Paul Baloche but made popular by Michael W. Smith." Ethan shared, "both of those songs are older ones but I've already had multiple requests to share our version so people can take it home and play it in their congregations. They also used a mashup of "All Belong Here" and "Come to the Table" during communion; it was truly a holy ground moment."
Michael Mitchum, band member from First, Greensboro, shared "Nowhere else have I been able to share my musical gifts, emotions, and identity with the same passion as I have while leading worship with the LYO Band." Caroline King, also from First, Greensboro, said "For me, being in the youth band and leading worship helped me feel closer to God than I've ever felt. It makes me feel like God is in the room."
Want to serve in the synod youth band? Or do you know a youth who should? Apply here to be in the band by May 31, 2020.
Want to serve on the LYO Board? Or know a youth who has gifts to share with LYO? Apply here to serve on the LYO Board by March 20.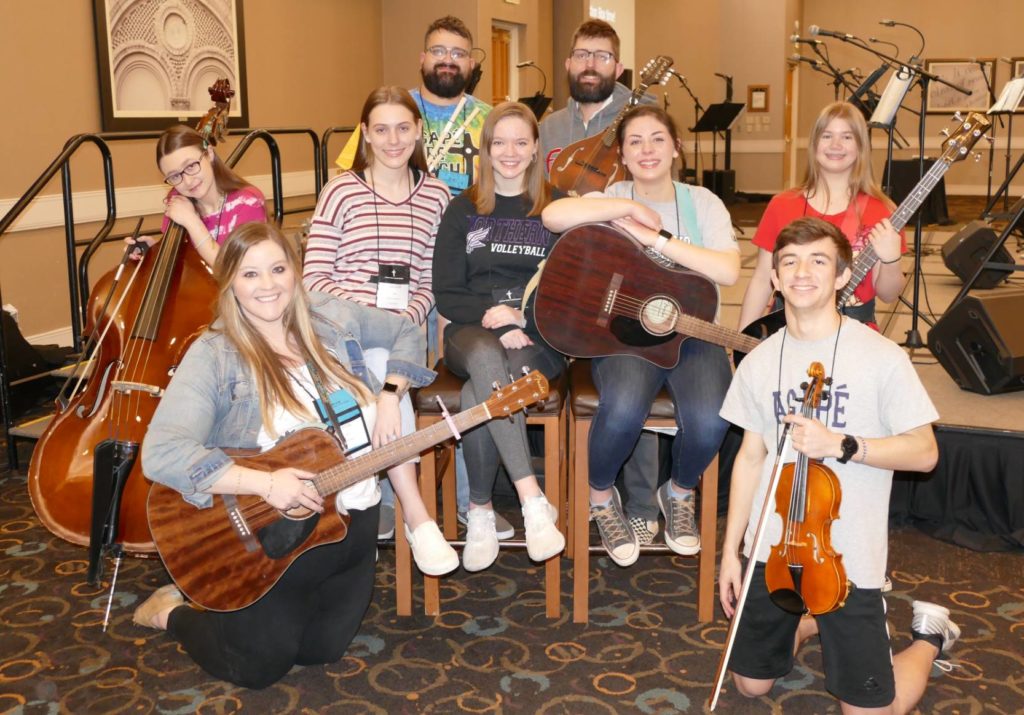 LYO Band members: Lydia Zima (Friedens, Gibsonville), Emily Norris (The Dwelling, W-S), Caroline King (First, Greensboro), Ethan Overcash (Becks, Lexington), Kaela Grace Rochester (First, Greensboro), Andrew Buck (Good Shepherd, Raleigh), Ella Reeve (Augsburg, W-S), Michael Mitchum (First, Greensboro), and Rylee Klinger (St. Peter's, Salisbury).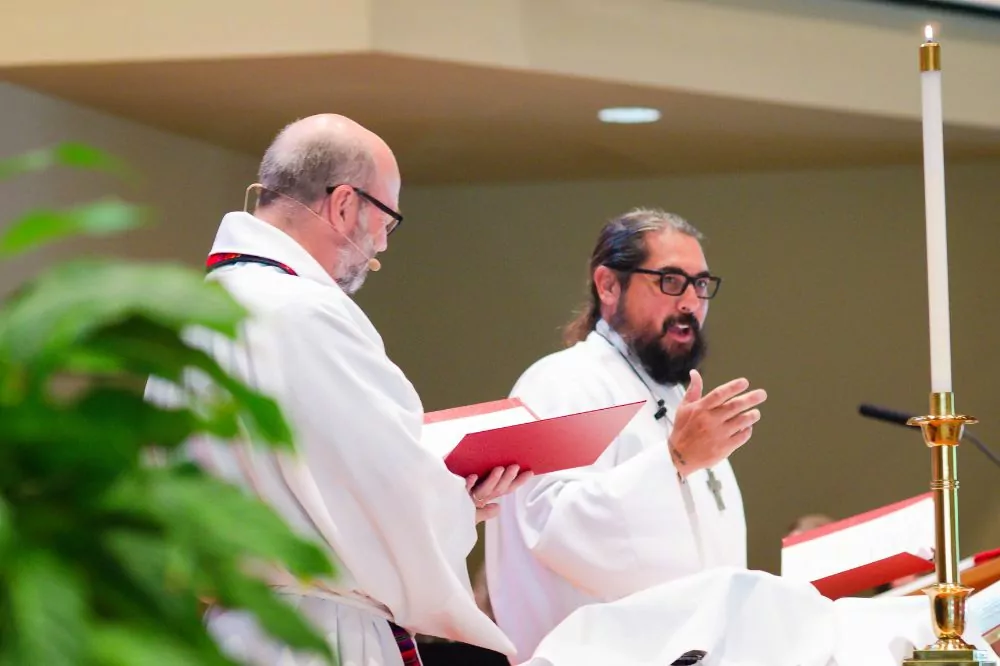 Many and varied are the paths that bring candidates to the rostered ministry of this church.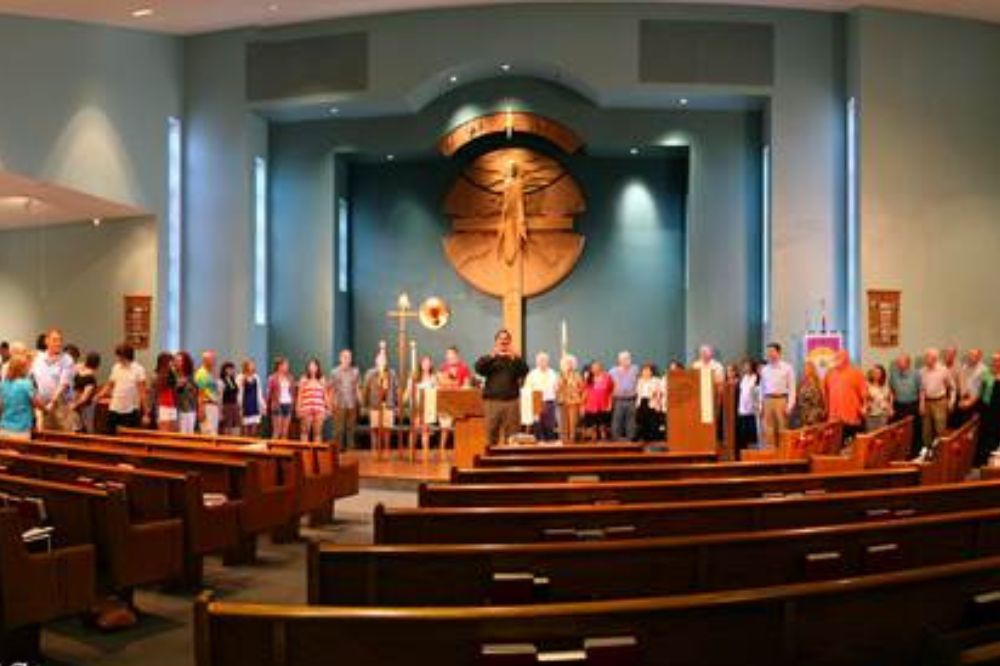 God is up to something new in Charlotte these days.