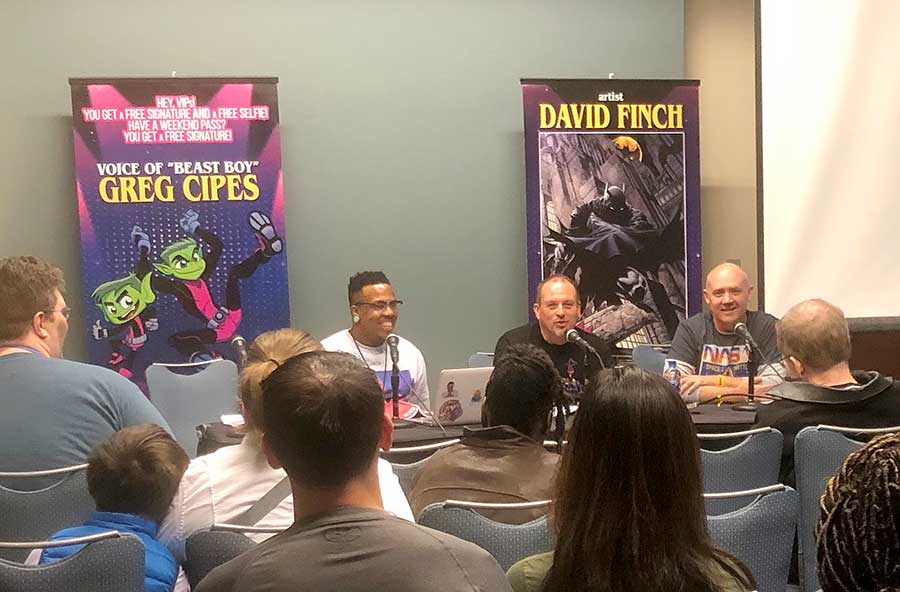 "God in Comics" panel, (L-R) Vincent Stevens-former Lutheridge counselor; Pastor Zach Harris-Ascension, Wilson; and Pastor Will Rose-Trinity, Chapel Hill
Pastors Harris and Rose facilitate "God in Comics"
The NC Synod was well represented at the Oak City Comic-Con held in Raleigh March 15-17, 2019.  The "God in Comics" panel discussion was facilitated by Pastor Will Rose of Holy Trinity, Chapel Hill, Pastor Zach Harris of Ascension in Wilson, and Vincent Stephens who, though now ministering at a non-Lutheran church, served for five years as a counselor at Lutheridge. The panel discussed the intersection of Geek culture and biblical and theological insights that can be seen in comics, movies, TV, and gaming.
The questions and conversation of the 30+ attendees were so numerous that the one-hour allotted panel room time spilled over outside into the hall for another hour's worth. Pastor Rose also took up duties like a late-night TV host, interviewing the head-lining guest of the event, Greg Cipes, whose voice-over acting is most notable as the voice of Beast Boy of "Teen Titans Go!"
Pastor Harris hosted a second mini-Comic-Con at Ascension, Wilson, titled "Free Comic Book Weekend," on the last weekend of March with artists and writers present through the weekend—including, Faith and Fandom, a ministry co-founded by Stephens and Hector Miray. This ministry, which was also represented at Oak City, goes from Comic-Con to Comic-Con to spread the Gospel. Also featured at the Wilson event was a guest signing by Andy Walsh for his book, "Faith Across the Multiverse." The event offered a variety of talent, panels, and even a cosplay parade!
For those looking way ahead, there is likely to be a Gathering of the Geeks at one of the workshops at the synod's Fall Convocation in October, as well as another "God in Comics" panel at Durham's Bull City Comic-Con in November!
Click here to read the story of Ascension, Wilson's first Comic-Con.