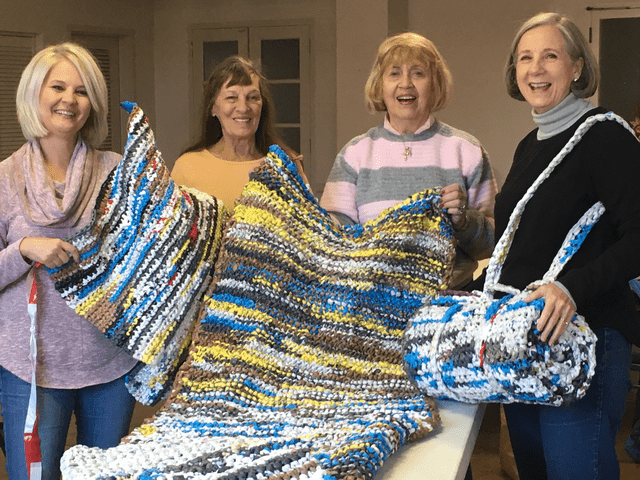 St. Andrew's begins new ministry
"If you have come to me in friendship, to help me, then my heart will be knit to you." (1 Chronicles 12:17)
Hickory, NC has been cited as having the highest population of unhoused veterans in the country. Several ministries and outreach organizations in Catawba County work to bring a sign of God's love to members of our community–veteran and civilian–who do not enjoy the safety and security of a stable home.
For years, St. Andrew's Lutheran Church, Hickory, has gathered supplies and items to share with neighbors in need. During "God's work. Our hands." Sunday each year, members of the congregation tie fleece blankets to offer a bit of warmth and collect tents for distribution. Toiletry kits are also assembled to distribute through Open Door Ministries, a local resource for assistance. Throughout the fall and early winter, coats and sweaters are collected and offered to those who spend long days and nights out in the cold.
Most recently, members of St. Andrew's have begun a new initiative in their care both for creation and our neighbors struggling with housing insecurity: plarn sleeping mats. Plarn is a type of "yarn" made from recycled plastic bags. Clean bags are cut into strips and knit or crocheted into six- to eight-foot durable, lightweight mats. The mat adds an extra layer of protection for those who spend nights sleeping on the ground or in local shelters. It is also easy to wash, roll, and carry.
It takes about 500 plastic bags to make one plarn mat. The new plarn ministry at St. Andrew's is an exciting way to keep plastic out of our overflowing landfills while also providing a resource for community members. We hope that these mats help unhoused neighbors sleep in heavenly peace this winter.
Story submitted by Pastor Christy Lohr Sapp.