South Durham Connections is a mission community of the North Carolina Synod with a story of partnership, sharing, and abundance.
In July 2019, they launched their signature ministry, the Parktown Food Hub, with the goal of bringing people together around food and reducing food insecurity in South Durham, NC. Based out of the Parkwood United Methodist Church building, the Hub offers a supermarket model of food distribution to anyone experiencing food insecurity. The food that stocks their shelves comes from a diversity of sources and feeds a diversity of people.
"For about one week at the beginning, I was worried about whether we'd have enough food," says Pastor Sharon Schulze, pastor of South Durham Connections and Coordinator of the Parktown Food Hub. "Now it's more like, what are we going to do with all this food? Who's going to come get all of this?"
The Hub grew out of a partnership with Parkwood Elementary School and in particular a dedicated volunteer named Aja Purnell-Mitchell who coordinated the school's food pantry. In collaboration with South Durham Connections, Aja and Pastor Sharon identified a greater need and expanded the elementary school's pantry into a refurbished space just two blocks away at Parkwood UMC. There they began serving a larger community beyond just students and families from the school.
But the people of the Hub and South Durham Connections care about more than just physical hunger. "Our overriding goal is building community," says Pastor Sharon. That value was especially on display in December as they coordinated their second Christmas giveaway event with Parktown Elementary.
"When we look around, the people who need food are the same people who probably can't afford to buy a lot of Christmas gifts for their kids," says Pastor Sharon. "We don't want any people to be hungry, and we don't want any little children to be sad. So that's our motivation."
For several years, Aja coordinated a Christmas present program for students as part of the school's pantry. When the Hub was born in 2019, the Christmas giveaway operation shifted into the new space while maintaining its focus on students and families of Parkwood Elementary. This year, the Hub coordinated the providing of gifts for approximately 180 children! In addition to gifts for children, each family received a grocery gift card worth between $50 and $100 to shop for holiday meals.
Just as with their food distribution, donations came from diverse sources. Local congregations Christus Victor Lutheran, St. Paul's Lutheran, Parkwood United Methodist, and Peace Covenant Church of the Brethren gave cash or gift cards totaling between $1500 and $5000 each. Global Bank company provided gifts for 50 children. A local real estate agency gave 70 turkeys. Individual donors gave generously.
And there was abundance. After two days of giving away presents and gift cards to Parkwood families, there was enough left to share with 13 families of Arbol de Vida Lutheran in North Durham, a neighboring ELCA mission community.
The Hub again lived up to its name as a connecting point, bringing together a diverse partnership of people with the ability to give and people with a need to receive. And those lines are blurry. "It is true that people need to give. If you're living a life where you're not sharing anything with anybody, then you are not happy," says Pastor Sharon. "If you look at the pictures of our Christmas giveaway, the people are so excited! Both those who give and those who receive."
One such person was a young child whose family is connected to the Hub through a supporting organization, Mindful Families of Durham. Earlier in December, the girl had become distressed when she saw a person experiencing homelessness, and her parents suggested she do something to help. So, she enlisted the help of friends and began making little felt animals that they sold for donations. A week before the Christmas giveaway, the kids and parents came to the Hub to deliver a check for more than $2000. Pastor Sharon was delighted to accept the donation and give the families a tour of the operation. "I told the kids that the Parktown Food Hub is the South Durham branch of Santa's workshop," she says.
The Christmas giveaway event is a way South Durham Connections is living into their mission of bringing community together to address all the ways people hunger. "We don't think of it as, 'We have this stuff and we give it to those people,'" Pastor Sharon says. "We think of it as, 'We are all one community.' The people who have a need are part of our community."
Pastor Matt Canniff-Kesecker for the NC Synod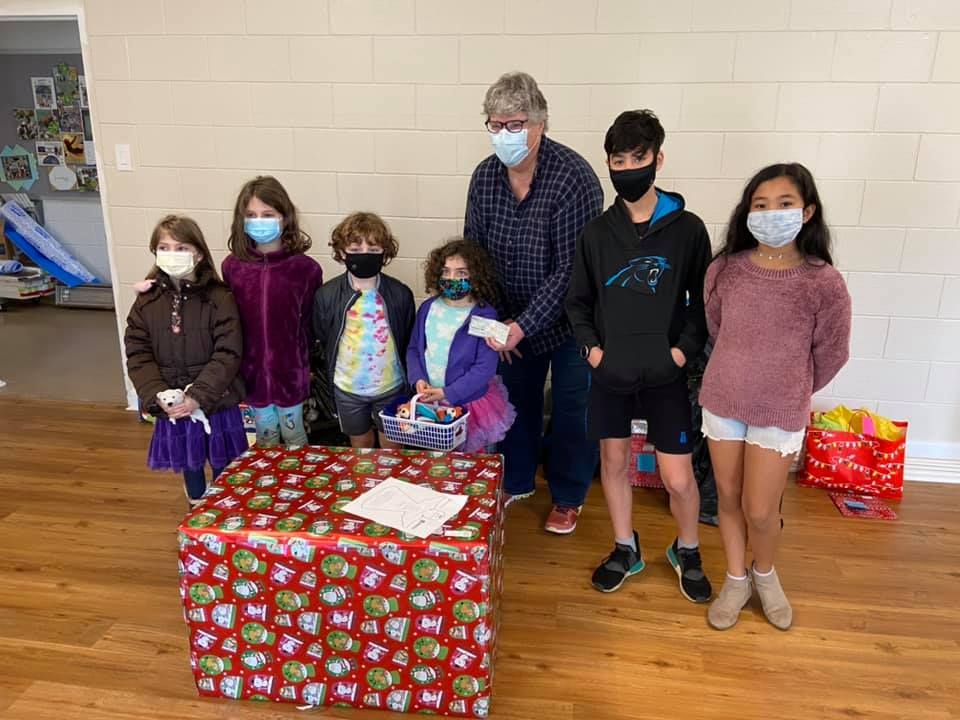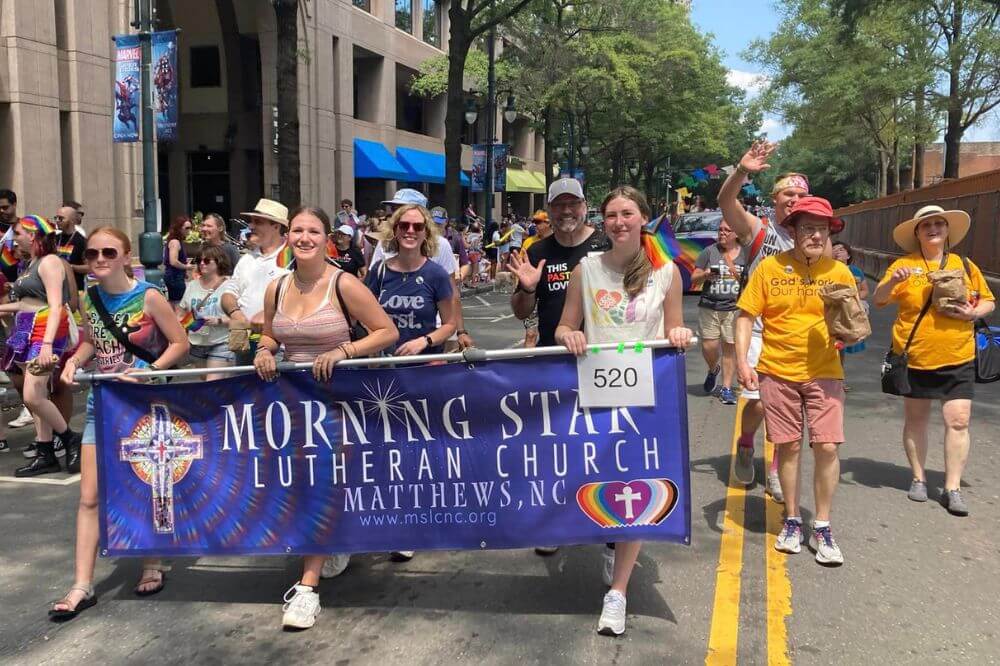 It was so humbling to get to love on these folks who have been hurt by the church.