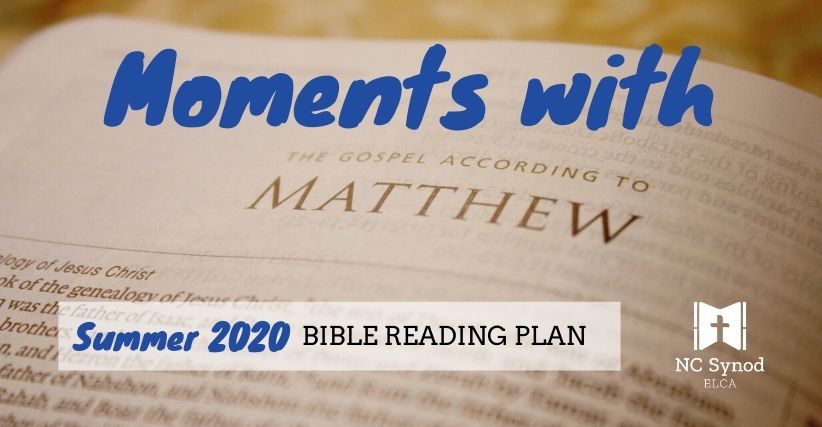 2020 Bible Reading Plan: Moments with Matthew
This summer's Bible Reading Plan, brought to you by the synod's Engage the Bible Task Group, is: "Moments with Matthew."  Beginning Sunday, July 5, we will read the Gospel of Matthew together as a synod—from Manteo to Murphy, or more specifically for our synod's congregations, from Andrews to Atlantic Beach! Won't you join us?
This year in celebration of the 50th anniversary of the ordination of women in the ELCA (and its predecessor bodies), the voices of women will be lifted up as each of our 30 writers are women. We'll kick off the Bible reading with an introduction to Matthew by the Rev. Dr. Katherine Shaner, Assistant Professor of New Testament at Wake Forest University School of Divinity. And, we'll wrap things up with a closing written by Dr. Shanitria Cuthbertson, Mission Developer of  Emmaus, West Charlotte.
There are three ways to engage with "Moments with Matthew":
Subscribe to the email list and each day's reading will come to your inbox. Complete this form, check the "Moments with Matthew" box, and click "Submit." (If you are already subscribed to other e-newsletters, this will just update your profile.)
Watch this spot on the synod's homepage. Each day's reading will post here: www.nclutheran.org.
Follow our synod's Facebook page. Each day's reading will also post to the page: www.facebook.org/NCSynod.
We hope you will join us—and other NC Synod Lutherans—for a journey this summer through the Gospel of Matthew!