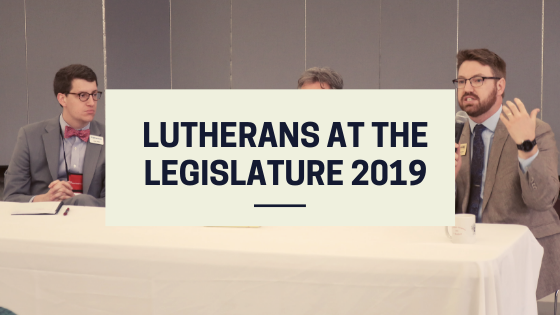 Lutherans at the Legislature 2019
On March 26, 2019, nearly 50 people gathered at the NC General Assembly for our Lutherans at the Legislature event. As the NC Legislature and the Office of the Governor are working to create legislative initiatives and economic incentives to encourage creation of affordable housing in communities across the state; we were present to learn about more mays we can make affordable housing a reality for individuals and families in every North Carolina community and make our voices heard.
During this meeting, we explored with our elected officials and their legislative staffers, meaningful, ethical and moral solutions to the housing crisis. We allowed for our voices to be heard on our support for public policies supporting affordable housing in North Carolina.
Although this event has passed, you can still have your part in making a difference:
1) Call your legislators (Senator and House Representative) and share "The Ask" by phone, using the script below or in your own words; AND
2) PRAY for the the elected officials making these decisions and for our voices to be heard
3) If you do not know how to contact your Senator or House Representative in the NC Legislature, you can find out using the convenient tool on the NC General Assembly website at:
https://www.ncleg.gov/RnR/Representation
Suggested language for your phone call:
"My name is ________________, and am your constituent. I am also member of __________ Lutheran Church in __(City)____, North Carolina. Members and friends of the Evangelical Lutheran Church in America were at the State Legislature on March 26, advocating for public policies which encourage development of affordable rental housing and provide affordable homeownership in every community across the state.

As a constituent and person of faith, I urge (Sen.Rep) to make affordable housing an affordable homeownership a priority to improve the lives of North Carolinians. Everyone deserves a safe place to call home.

As a Christian, I believe we are called to care for neighbor, and that housing is a fundamental human right. Safe, secure, sanitary, and affordable housing provides safety and stability, improves physical and mental health. Thank you for your dedicated service to our community. I promise to pray for you as you continue in public service."
We hope you will join us for our next event and we are grateful for your continued prayers and support.