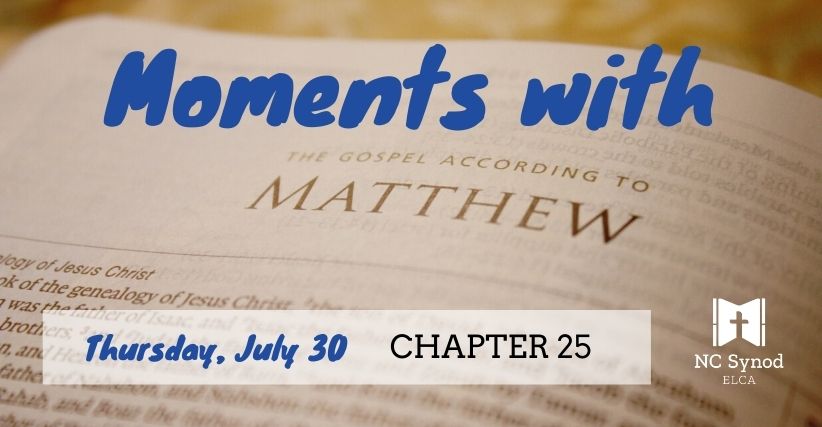 Reading
2
6
Something Is Missing
—Matthew
2
5
When I first read my assigned text, I was excited to have received it. But after thinking for a short while, I realized that I didn't know how to interpret parables. Then I remembered the book a friend had loaned me, Short Stories by Jesus: The Enigmatic Parables of a Controversial Rabbi by Amy-Jill Levine. From the introduction, I gleaned two important things to remember when reading parables: 1. each person will hear a distinct message and 2. these stories challenge us to look at our values and lives, often bringing up questions and showing us truths we know but don't want to acknowledge. That sounded daunting.
Reading at face value, the lessons to be learned in these parables seem cut and dry: God is the bridegroom, and you must be ready for his return; God is the master who gives talents to the slaves, and you'd better manage them well; when you care for the hungry, thirsty, stranger, naked, sick and imprisoned, you're caring for God, so you must respond correctly. Do it right, or else…
But reading these stories in this manner negates Jesus' life and death and contradicts the overarching narrative of God's actions in the Bible. What's missing in these stories is grace, mercy, and love. When we see what life is like without these things, we see that we need Jesus.
When I use Levine's guidance, I further see that these parables raise my tendency to want to be "right" and make me fearful of negative consequences. I also wonder: When am I self-righteous or unwilling to share? When am I so scared of getting it wrong that I don't even try, instead burying an opportunity I've been given? When do I judge people and separate them into categories? How do I exclude others from the kingdom of heaven?
These questions only lead me back to Jesus. I see through Jesus' life that God loves me and all people and that God wants to be in relationship with us. I see through Jesus' life that there is abundant grace and mercy for all. Thanks be to God!
To Consider:
What do these parables mean for you today?

When have you experienced divine love, mercy, or grace or helped others know these gifts?
O God, thank you for your presence in my life and for your grace, mercy, and love. Give me opportunities to share you and these amazing blessings with others. Amen.

Kimberly Dunbar is the Outreach Ministry Coordinator at Good Shepherd, Brevard. She is in the Masters of Religious Leadership Program through Lenoir-Rhyne University and Lutheran Theological Southern Seminary. She is a Candidate for Minister of Word and Service through the NC Synod and is blessed to be the mother of 11-year-old Sophie.