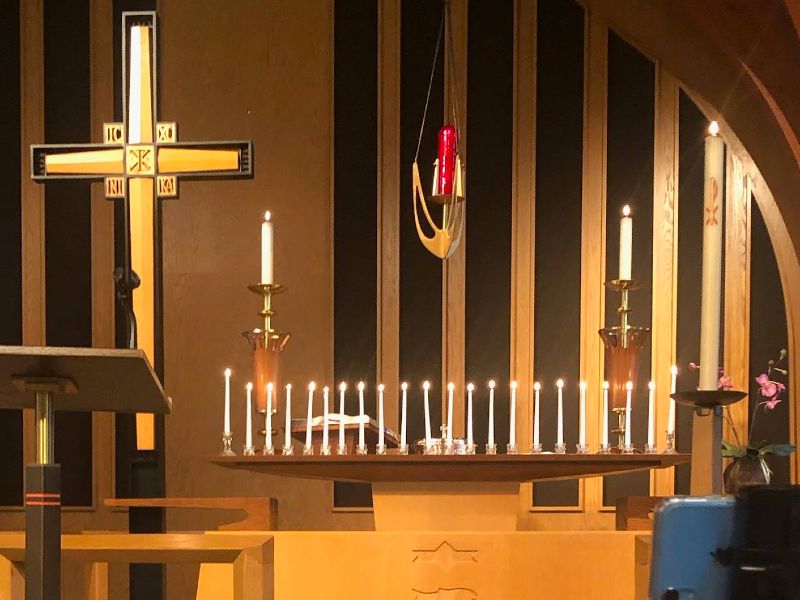 A Communion of Saints
On a Sunday in 1950, Bill Milholland, Sr. walked out of the sanctuary of St. John's Lutheran Church in Salisbury, NC, stood on the top step looking down at the sidewalk, and saw the woman who would become his wife of 68 years. "I spied Mary Anne, and immediately Cupid shot an arrow and it hit me," Bill said. "I walked right down the steps and asked if I could see her, and she said yes. So, our relationship began at St. John's."
In that moment, Bill was not yet the "Pastor Milholland" whose ministry in the NC Synod would span decades. He could not have known the life that he and Mary Anne would build together in the Lutheran church, or the many milestones they would celebrate in that very congregation. And he could not have known that one far off day, he would be back at St. John's to say goodbye.
On October 27, 2020, the North Carolina Synod staff invited rostered ministers who had lost loved ones in the past year to St. John's in Salisbury for an All Saints worship service. A priority of the synod as expressed in our vision statement is to "nurture whole & healthy leaders." Synod staff recognized that particularly in this season of COVID-19, nurturing leaders includes helping them to grieve.
In his message to rostered leaders gathered that day, Bishop Tim Smith acknowledged the difficulty they faced in leading All Saints worship for a congregation while still grieving themselves. "So we wanted to be able to see some of your faces in person and some of your faces online, just to be together in these tender moments and these tender days, as we remember, and hurt, and give thanks," he said.
Mary Anne Milholland died in March, two days after her and Bill's wedding anniversary, but her family has not yet held a funeral due to gathering restrictions. While Bill, Sr. attended the All Saints service in-person, Pastor Bill Milholland, Jr. of Lutheran Church of Reconciliation, Wilmington, participated via livestream and remembered his mother. "That worship helped in the process of having some closure," said Bill, Jr. "It really helped to hear Bishop Smith's words. It was a good celebration of what we believe."
Even from a distance, Bill, Jr. says he felt the power of the place. "St. John's was my mother's home church, where she was baptized, raised, and confirmed," he said. "My parents were married there, and two of my brothers and I were baptized there. Watching the service, I truly felt part of the communion of saints because of all that connection."
Deacon Tammy Jones West agrees. Tammy's husband Eric died in September from cancer. "The last four years, I have not looked forward to All Saints Day," said Tammy. "Last year, I put the date for this year's All Saints on my calendar and said I wouldn't go. I knew it was going to be hard, and it was. But it was beautiful, and I was grateful for it."
Because of COVID-19, Tammy had not received communion for several months before the All Saints service. The last time she did was with Eric. "It felt right to celebrate communion there because it was like being with him again," Tammy said. "There's something about being around the table and remembering and knowing we're all there together. It brings some comfort."
Bill, Sr. had not had communion since March, before the pandemic began. When he received the meal in the All Saints service, he thought of his wedding day in 1952, when he and Mary Anne knelt at the altar rail of St. John's and communed together. "All those memories came rushing back, and I had a lot of tears," he said.
Tammy experienced the communion of saints not only in the memory of those who died but also in the other people spaced out in the pews around her. "It was beautiful to be there with Bill," she said. "He was my pastor at St. Andrew's in Hickory when I was a student at L-R. And I know it helped bring some comfort to him, too."
Tammy also recognized the need for such a worship experience just among synod staff, as she, Pastor Sara Ilderton, and Pastor CeCee Mills all lost significant loved ones in recent months. "That's a lot of loss," she said. "And a lot of grief. And a lot of love."
Rostered ministers of the synod who have lost loved ones in the last year include:
Pastor Michael Bostian—Mother, Arlene Bostian, 11/3/19
Pastor Ann Kelly—Father, John Kelly, 11/13/19
Pastor Christina Auch—Father, Andy Lavarre, Jr., 12/17/19
Pastor Mike Riley—Mother, Alice Riley, 1/23/20
Pastor Charlie Hoyle—Son, Peter Hoyle, 3/12/20
Pastor Bob Young—Wife, Barbara Young, 3/18/20
Pastor William Milholland—Wife, Mary Anne Milholland, 3/22/20
Pastor Bill Milholland—Mother, Mary Anne Milholland, 3/22/20
Pastor Emily Lemoine—Father, Doyle Campbell, 3/29/20
Pastor Dan Duke—Father, Robert Duke, 4/6/20
Pastor CeCee Mills—Mother, Rose Senior, 4/8/20
Pastor Diane Cline—Mother, Susan Wilson, 5/20/20
Pastor Shanitria Cuthbertson—Grandmother, Mary Cuthbertson, 7/10/20
Pastor Laura Henrik—Mother, Sharon Stancher, 7/23/20
Pastor Sara Ilderton—2nd daughter, Meghan McGinnis, 8/24/20
Deacon Tammy Jones West—Husband, Eric West, 9/10/20
Pastor Henry Rendleman—Wife, Susan Rendleman, 9/14/20
Pastor Carl Rosenberg—Mother, Rose Rosenberg, 9/22/20
Pastor Audrey Pedersen Husband, Eugene Pederson, 9/25/20
Pastor Judy Drysdale Mother, Sandra Lewis, 9/29/20