Synod Storytellers bring stories of the ways we are church together to the folks in their congregation. What are God's people doing across the three expressions of this church? In congregations, synods, and churchwide, ministry is happening and we want to tell those stories as widely as possible! Consider being the Synod Storyteller for your congregation.
Have you been identified by your congregation council or pastor as a Synod Storyteller? If so, thank you!
Thank you for helping bring stories of the ways we are church together to the folks in your congregation.
You will receive quarterly information to share in your congregation. And, we want to hear your stories as well.
Use the "Submit your stories here" embedded JotForm to share a ministry story from your setting.
See samples of congregational ministry stories posted below.
---
Helpful Links
Operation Mask Mission
How do 100,000 masks get into the hands of NC Synod congregations? "Ask and you shall receive!" says Deacon GeoRene ("Jo") Jones, NC Synod Liaison for Lutheran Disaster Response (LDR).
Over the last 25 days, 152 cases of cloth face coverings were distributed to congregations and affiliated agencies. Early this year, the Federal Emergency Management Agency (FEMA) made a one-time offer to donate masks to non-profit agencies in response to the COVID-19 crisis. (more…)

Solidarity Beyond the Walls
When members of the Church of the Abiding Savior, Lutheran in Durham began discussing prisons in their adult Sunday School class in early 2018, they did not know that life-changing new relationships would come from it. But that is what happened. (more…)
Born from the pandemic—something new!
"When I was a child, I had the cutest yellow dress made out of a flour sack," Barbara Smith shared with her pastor, Vern Kinard, "and although we had many sack clothes growing up…we never had to worry about food because we lived in this community. That's how it should be and that's how we hope it stays." Pastor Vern Kinard serves as the pastor at St. Luke's in the rural community of Tyro, in Davidson County. He shared, "St. Luke's has a passion for feeding people. We gather every Wednesday, year-round, for a potluck dinner that's open to all. At least we did until earlier this year when the realities of COVID-19 forced us to no longer gather in our building."
Sharing God's free gift of grace
Ascension Lutheran Church in Wilson held its second annual Oktoberfest Celebration on October 13, 2018, which turned out to be a beautiful day weather-wise, making for a wonderful event. The first Oktoberfest was done as part of the 500th Reformation Anniversary Churchwide Celebration and was so well received we decided to do it again. Both were given as a gift to the community—no admission charges, no fees for food or any of the activities—only asking donations for the beer served in our BierGarten; donations which were turned over to Veterans Residential Services of Wilson. (more…)
Finding new ways
"I've heard some people say that they aren't having church, but the truth is, we are the church. It is true that we cannot go to the building and worship corporately, have our spirits lifted in prayer, in song, in word, in communion. But we can certainly worship as the church together, apart. (more…)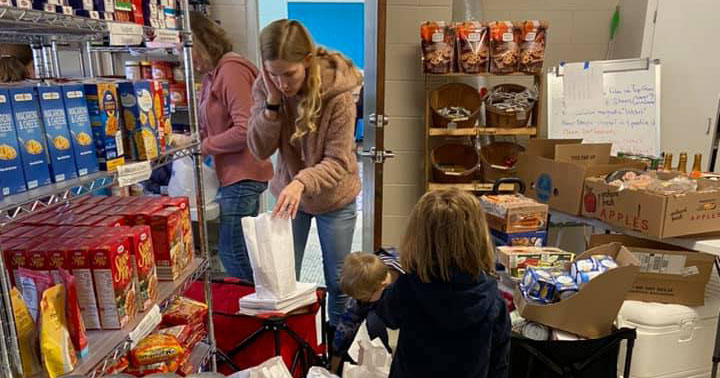 A time for the Gospel in action
'If there was ever a time for the Gospel in action, this is it.'
McDougald Terrace is the city of Durham's largest public housing complex with 360 apartments built in 1953. In early January, the Durham Housing Authority began an immediate emergency relocation of families living there following a number of carbon monoxide poisonings in December. Inspections revealed dangerously high carbon monoxide levels from gas stoves, furnaces, and water heaters. For almost six weeks now, about 280 families—including almost 500 children—have been living in 12 hotels across Durham County. (more…)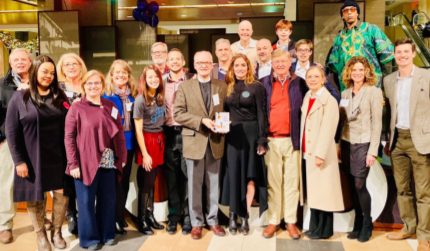 St. Mark's wins "Do Good" award
On December 12,2019 at the Wells Fargo Atrium, St. Mark's Lutheran Church of Charlotte was presented the "Most Generous Financial
Gift" award by Share Charlotte, Wells Fargo, and the Charlotte Business Journal for their support of Running Works, a nonprofit organization that provides life skills training and housing to homeless people. The award is based on a total gift of $17,883 given by St. Mark's and the Social Ministry Committee with the approval of St. Mark's Congregation Council. (more…)
Christ the King hosts interfaith MLK worship
"Reconciliation without justice isn't reconciliation at all."
"We have inherited a big house, a great 'world house' in which we have to live together—black and white, Easterners and Westerners, Gentiles and Jews, Catholics and Protestants, Muslim and Hindu," Dr. Martin Luther King said in 1964 when accepting the Nobel Peace Prize in Oslo, Norway. Dr. King would have been pleased with the very diverse crowd that attended the interfaith prayer service held Jan. 19 at Christ the King Lutheran Church as part of the Town of Cary's "Dreamfest" events on MLK weekend. (more…)
Good Shepherd offers suicide awareness class
This September, the Reimagining Health Collaborative (RHC) team at Good Shepherd, Brevard, learned that our application for a grant from ELCA Disability Ministries had been partially funded. This funding enabled us to offer a suicide awareness training by Soul ShopTM for our community on October 24, along with refreshments. Thirty-five people attended the training, which focused on increasing people's willingness to talk about suicide, gaining basic conversational skills to use when talking with someone they are concerned about, and connecting self and others to needed services. The training was presented by Fe Avis, a suicide prevention expert and creator of Soul ShopTM, an international movement that trains clergy, ministry leaders, and community members to incorporate care for those impacted by suicidal desperation as an integral component of their life together. (more…)
Beth Eden brothers encourage giving
Samuel Calderon (pictured on left), who was nine on November 20, and Nathaniel (on right), who will be seven on December 12, celebrated their birthdays together this year at their church–Beth Eden, Newton. Instead of gifts they asked those attending to bring a donation to help the many people who have been affected by hurricanes this year if they so desired. (more…)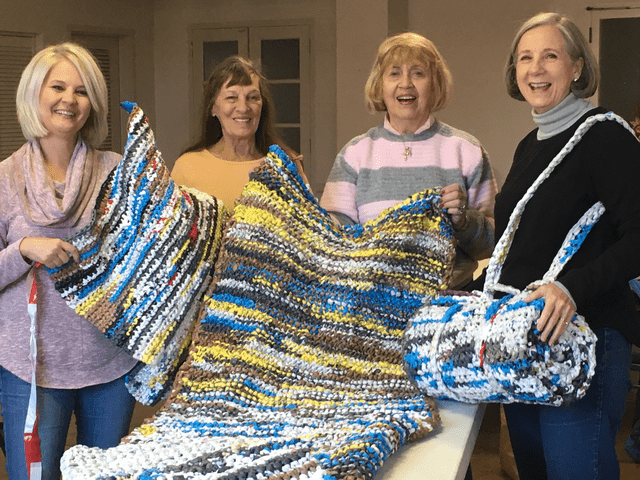 St. Andrew's begins new ministry
"If you have come to me in friendship, to help me, then my heart will be knit to you." (1 Chronicles 12:17)
Hickory, NC has been cited as having the highest population of unhoused veterans in the country. Several ministries and outreach organizations in Catawba County work to bring a sign of God's love to members of our community–veteran and civilian–who do not enjoy the safety and security of a stable home. (more…)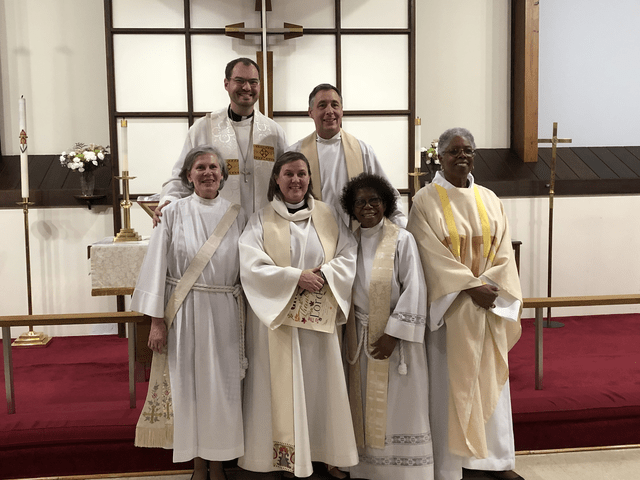 Abiding Savior hosts ecumenical Thanksgiving service
On Tuesday, November 26, about 60 people gathered for an ecumenical Thanksgiving Worship service at Abiding Savior Lutheran Church, Durham. This was the third annual such service, but was by far the best turnout. The four congregations participating were: St. Philip Episcopal, Christus Victor Lutheran, St. Titus Episcopal, and Abiding Savior Lutheran. (more…)
Lutheran Chapel serves first responders
Lutheran Chapel, China Grove, celebrated "God's work. Our hands." on Tuesday, October 29, through serving a community meal for Southern Rowan County first responders. Hamburgers and hot dogs with the trimmings were served to policemen, firemen, EMT's, and sheriff's department personnel from staff in Kannapolis, Landis, China Grove, and Salisbury. Special guest was Sheriff Kevin Auten from Salisbury. Members from Lutheran Chapel prepared the meal under the leadership of Council President Steve Beaver.
Story submitted by Pastor Susan Bame.
Grace, Washington's Goat Challenge
Our small but mighty congregation, Grace, Washington, began what we call the Goat Challenge last year. We are small – about 32 members regularly attending – but are concerned about hunger issues in our world. The goat challenge began as a way to help with hunger worldwide. Two of our members are goat owners and farmers. Goats are economical, take a small space on which to live and produce well. A goat can produce a gallon of milk daily—more than enough to help feed a hungry family. (more…)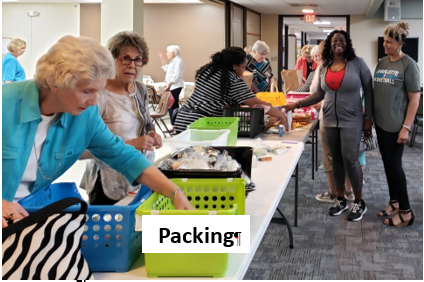 Packing purses!
For their October meeting, members of the Sullivan Huddle of Women of the ELCA at First, Greensboro, participated in a service project working with "An Attitude of Gratitude." (more…)